Stephanie Saba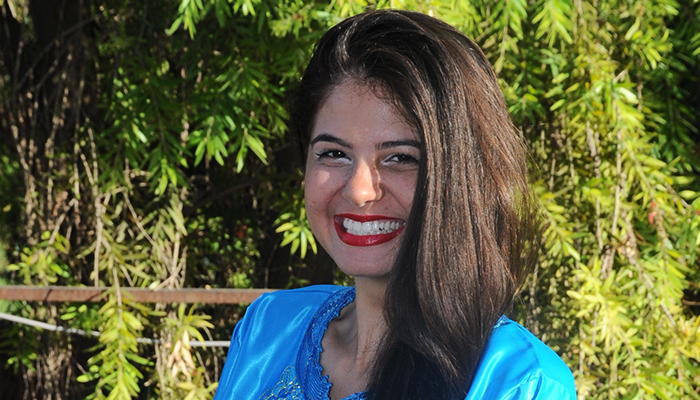 M.A. in International Relations with a Concentration in Development and Humanitarian Assistance. Certificate of Advanced Study in Food Studies.
Major/Minor: M.A. in International Relations with a Concentration in Development and Humanitarian Assistance. Certificate of Advanced Study in Food Studies.
Anticipated graduation year: 2022
Describe your Syracuse experience in a couple of sentences:
I've made lifelong friendships at Syracuse and have been personally and academically challenged. Syracuse is the only university I applied to for my master's degree and I do not regret that decision!
How is Maxwell preparing you for the future?
Maxwell is preparing me for the future by giving me the opportunity to put the "international" in international relations. I recently completed my summer semester in Strasbourg, France. Next, I'm off to Seoul, South Korea for the fall semester. Living and working abroad strengthens my language and cultural competency thus preparing me for work in the field.
What are your plans after graduation?
I am interested in local food systems, sustainable agriculture, and girls' education. My hope is to find a meaningful job in one of these fields.
Are you involved with any organizations/extracurriculars?
I'm involved in the French Club (recently won French Club jeopardy!!) and the Graduate Student BIPOC Alliance for Excellence (GSBA).
Are you the recipient of any scholarships?
I am the recipient of the Lefkowitz-Mendik Family Endowed Scholarship and an Experiential Learning Award given to me by Ms. Daphna Cramer.
Have you performed any internships/research?
I interned at the Council of Europe in Strasbourg, France this summer. The Council of Europe is an international human rights organization encompassing 46 member states. I worked within the Pompidou Group whose work focuses on drug trafficking and addictions and working within this field with a human rights perspective.
What has been your favorite Syracuse experience so far?
The Graduate School BIPOC Alliance put on a Spring Soirée with great food, dancing, and a 360-degree camera. It was a blast spending time with my friends and seeing everyone dressed to impress.
How has alumni generosity impacted your time at Syracuse? Why do you think giving is important?
I would not have been able to attend Syracuse if it weren't for alumni generosity. Being a scholarship recipient has given me the opportunity to pursue my master's degree, and study abroad along the way. Giving is important because many people, like me, come from disadvantaged backgrounds and are unable to pursue an education without financial assistance. Without giving, the potential of many brilliant minds would remain untapped, thus greatly reducing the diversity of thought and putting society at risk for underdevelopment in a variety of fields. Giving, in big ways and small, is one of the most remarkable things a person can do because it creates a ripple effect of people paying it forward.
What does it mean to you to be Orange?
Being Orange means trying your best and always seeking ways to help people and make the world a better place.