Mackenzie Proud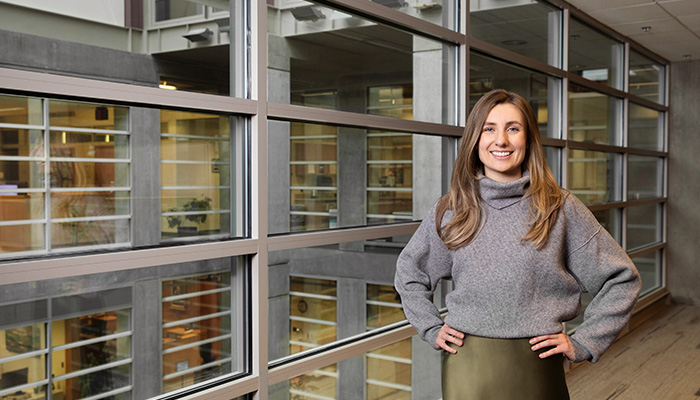 Maxwell School of Citizenship and Public Affairs
Hometown: Syracuse, NY
Major: Nutrition Science B.S. / MPA
Class Year: 2020 / 2022
Describe your Syracuse experience in a couple of words or one sentence:
Fulfilling, engaging, filled with orange love.
What attracted you to Syracuse University?
I was attracted to Syracuse initially by the beautiful campus but as soon as I got here I was drawn in by the ample amounts of opportunities. I truly believe there is a place for everyone on our campus. During my time I have felt a sense of responsibility to take advantage of as many opportunities as possible, I recognize what a unique opportunity we have to be at a school with not only tons of resources but a community that is so passionate about being actively engaged in their campus. During my time at Syracuse, I studied abroad, led tours, mentored other students, served on executive boards, became an EMT, joined a University Taskforce, participated in the Graduate senate, and more. SU's culture of involvement allowed me to thrive on campus.
What organizations are you involved with on-campus that you're really passionate about?
I have been involved with Camp Kesem at Syracuse, a student-led nonprofit that provides year-round support and a week of summer camp to children in our community who have a parent or caregiver who has experienced cancer. I served as a counselor and outreach coordinator for CKSU. The experience of helping to run a nonprofit as an undergraduate student allowed me to solidify my passion for nonprofits which led to me staying at SU to get my MPA.
I also was involved with Syracuse University Ambulance. I didn't expect to become an EMT before coming to college and actually applied to SUA on a whim the night before the application was due. Being a part of SUA was such a rewarding opportunity to serve our campus community and it connected me with the most dedicated, selfless and passionate individuals that are still my closest friends today.
What has been your favorite Syracuse experience so far?
My favorite Syracuse experience was traveling to South Africa for a study abroad program where we worked collaboratively on public health interventions with a school in Ghramstown.
What motivates you to give back to Syracuse?
I have received so much from the University, my time as an undergraduate student allowed me to expand my horizons beyond what I expected from myself. My undergraduate experience consisted of a variety of extracurricular organizations that allowed me to grow as a leader. Continuing on in my graduate studies I am building professional experience and academic knowledge that provides a strong foundation for my career. Syracuse has provided me the resources to grow as a professional, a student, a community member, and a friend. This campus has offered me more than I could have asked for. I want to give back to ensure other students have the financial resources they need so they can focus on taking advantage of all that SU has to offer for their growth.
How has alumni generosity impacted your time at Syracuse?
The Robert B. Menschel Public Service award allowed me to pursue two internships with nonprofits that would have been significantly more difficult without funding support. I worked in California at The Painted Turtle Camp, a Paul Newman Serious Fun Camp that provides traditional camp experiences at no cost to children with serious medical conditions. Later in the summer, I continued to serve as the outreach coordinator for Camp Kesem at Syracuse University which provides summer camp and yearlong support to children in our community who have a parent or caregiver with cancer. These experiences helped me to validate my passion for the nonprofit sector, I am now completing my Masters in Public Administration at Syracuse focusing on social policy and nonprofit management.
If you had a chance to thank a donor right now, what would you say?
Thank you for using your resources to allow students the opportunity to grow and succeed at Syracuse.