Andrew Seymour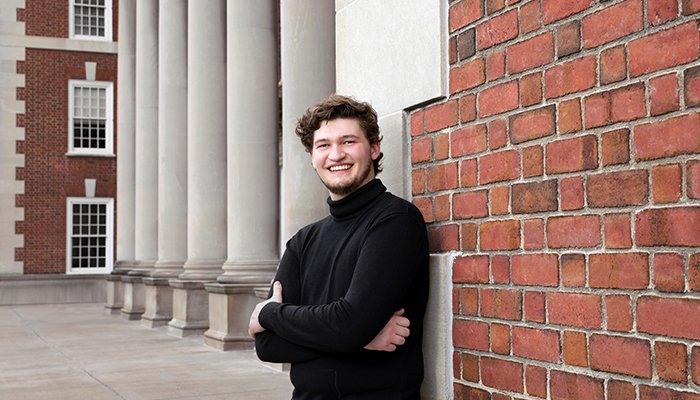 Maxwell School of Citizenship and Public Affairs
Describe your Syracuse experience in a couple of words or a sentence:
If I could go back and live my Syracuse experience again I definitely would, this has been the most transformative four years of my life, I have grown so much thanks to the support of an incredible community of peers, mentors, and faculty.
What attracted you to Syracuse University?
I was originally introduced to SU by the father of one of my friends in high school who was an alumnus of Whitman. The way he spoke about his experience back in the day inspired me to consider Syracuse. Upon my own initial research, I was drawn to S.I. Newhouse School of Public Communications. The reputation of the school was undeniable, it produced an incredible caliber of communications professionals, and I was confident that coming to Syracuse would provide me with invaluable support and connections. The feeling I got walking around campus on my first visit cemented in my mind that Syracuse was where I could feel the most at home.
What organizations are you involved with on-campus that you are really passionate about and why?
I have been fortunate to be a part of many incredible organizations and roles during my time at Syracuse. I have served as an orientation leader since my Sophomore year, which has been an incredible opportunity to connect with incoming students and provide them with the resources and support necessary to achieve their goals. I am also a member of Phi Sigma Pi national honor fraternity, which is a group of incredibly driven and passionate individuals who push me to be a better leader, scholar, and citizen. Perhaps the program that I am the proudest to be a part of is the Remembrance Scholars program. I am honored to represent one of the 35 Syracuse students who were killed in the bombing of flight Pan Am 103 in 1988. I represent Peter Peirce, and it is such an honor to carry on the legacy of such a kind and caring individual. Sharing his story, and keeping the memory of all of the victims alive and well is an honor that I am forever grateful for.
How has your time at Syracuse shaped you?
I have met countless people at Syracuse who have changed the way that I understand and experience the world around me. I have a much more thorough understanding now of how to be an active and engaged member of a global community. It is really a blessing to have the opportunity to be surrounded by students and faculty who are constantly providing you with opportunities to learn and to grow. I am leaving Syracuse a more thoughtful, compassionate, and confident leader than I ever thought I could be. And I am heading out into the world with an incredible network of resources and support that will make it so I am never truly alone, The orange family will always have my back.
What has been your favorite Syracuse experience so far?
Welcome week every year is such a fun and crazy experience. Getting to meet so many new people, and have such great conversations with incoming students and their parents has really been one of the most fulfilling experiences I have had at Syracuse. Remembrance Week is also a very important and special experience every year. It is an opportunity for our community to come together and remember those that we have lost and collectively decide how we are going to work together to create a better future. These have been my favorite experiences.
What motivates you to give back to Syracuse?
SU has its fair share of challenges, I believe that the university is not perfect, and does not always act in the best interest of all students, but I believe that there are so many initiatives and programs within the university, so many passionate individuals that are working to create positive change within our community and beyond. Donating means supporting these programs and these students. Giving back means that you are acting forward, helping to create an incredible experience for students of all backgrounds to come.
Why do you think alumni should support SU?
Programs such as the Remembrance Scholars Program, the Our Time Has Come Scholarship and the different identity-based resource centers are essential to creating a more cohesive and inclusive campus. Donations that help to support these programs help to make this university a better place and provide opportunities to more students.
If you had a chance to thank a donor right now, what would you say?
Thank you for helping support the community that has given me so much, I hope to pay forward that kindness.
Why are you proud to be a part of the Orange family?
The Orange family is driven, is passionate, and determined. The Orange Family looks after one another, supports one another through the good times and the challenging times. I have experienced all of this firsthand, and that makes me truly proud to be a part of the Orange Family.