The Hill Society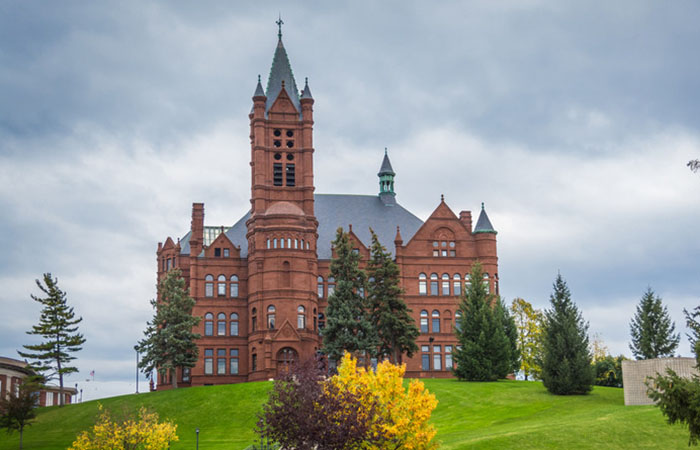 Be a leader and contribute to Syracuse University's foundation and future. Join The Hill Society.
The Hill Society is a dedicated network of leadership annual donors who share a common goal of supporting Syracuse University's highest priorities. As a member, you will receive updates on how your contributions directly impact students and faculty, along with the latest news about the areas of the University you love most. Exclusive regional and on-campus events allow members to engage with each other and University leadership, creating connections and opportunities to work together to advance Syracuse University's mission and shape its future.
Membership starts with an annual gift of $2,500 to the Syracuse University Annual Fund, General Supported Scholarship Fund, any dean's discretionary fund, or a qualifying campus-wide program fund.
The Hill Society Membership Gift Levels
CHANCELLOR'S CIRCLE
$25,000+
VICE CHANCELLOR'S CIRCLE
$10,000–$24,999
SCHOLAR
$5,000–$9,999
MEMBER
$2,500–$4,999
Generation Orange Gift Levels
(for recent graduates)
Year 0–4: $250
Year 5–8: $500
Year 9–10: $1,000+
Additional information about The Hill Society and a list of funds that qualify for membership can be found in our FAQ section below. To learn more or to make a gift to one or more eligible funds, please contact us at 315.443.1848 or thehillsociety@syr.edu.
Accordion Section
Yes, it will be renewed each year when you make your annual gift (minimum of $2,500) to any of the current use funds that are included in the Fund for Syracuse.
GENERAL FUNDS
SCHOOLS AND COLLEGES
School of Architecture
College of Arts and Sciences
School of Education
College of Engineering and Computer Science
David B. Falk College of Sport and Human Dynamics
School of Information Studies (iSchool) 
College of Law
Maxwell School of Citizenship and Public Affairs
S.I. Newhouse School of Public Communications
College of Visual and Performing Arts
Martin J. Whitman School of Management
University College
ADDITIONAL AREAS TO SUPPORT
You can also visit our general giving page and search through all available funds. 
No, as long as the gift meets the requirements of $2,500 to one of the Funds for Syracuse.
The Hill Society provides an inclusive network with exclusive access:
Each member will receive a welcome packet with specially branded The Hill Society materials.
Exclusive invitations to The Hill Society events located in their geographic region
Quarterly e-newsletter
Opportunities to network with other The Hill Society members throughout the year.
Annual dollars provided through The Fund for Syracuse are flexible and immediately available, enabling the chancellor, deans, and other division heads to funnel those dollars wherever they are most urgently needed. Tuition and fees account for only a portion of Syracuse University's annual budget. Annual contributions to The Fund for Syracuse are crucial, creating an essential bridge between tuition revenues and the actual cost of a Syracuse University education. The Fund for Syracuse is actually a collection of many current-use funds. The Fund for Syracuse includes:
The Annual Fund
General Scholarship Fund
Director/Dean's Funds for each school, college, and unit
A variety of specialty funds for current use purposes
Gifts to the "Fund for Syracuse" are counted within our fiscal calendar of July 1 – June 30.
The Fund for Syracuse affords individuals a great deal of flexibility, as donors may choose from a wide range of annual giving designations, which align with their personal interests and connections with the University. This includes options for making gifts to each college, school, and unit on campus. For those individuals that want the University to decide how best to put their gifts to use, unrestricted contributions may be made to Annual Fund.
All of these gifts have something in common:
They are spent each year (which is different than an endowment gift).
They represent a flexible and essential source of funds and an investment in the leaders of the university, schools, colleges, and units to make strategic investments.
They are essential to the operation of the University. The majority of the budget provided to the University's thirteen colleges and schools are in the form of fixed costs. Annual giving contributions provide an invaluable source of flexible funding that reflects your priorities as a donor, as well as the greatest needs and highest priorities of the University.
Year after year, gifts to the Fund for Syracuse make possible scholarships, and once-in-a-lifetime opportunities for students. Annual gifts help Syracuse University provide state-of-the-art laboratories and equipment, and support learning experiences, including study abroad, immersion trips, and student competitions.
Whatever the size of your gift, your support strengthens Syracuse. It is also a vote of confidence. Universities that have a broad base of alumni support do better in college rankings.