Academic Excellence: Expanding What's Possible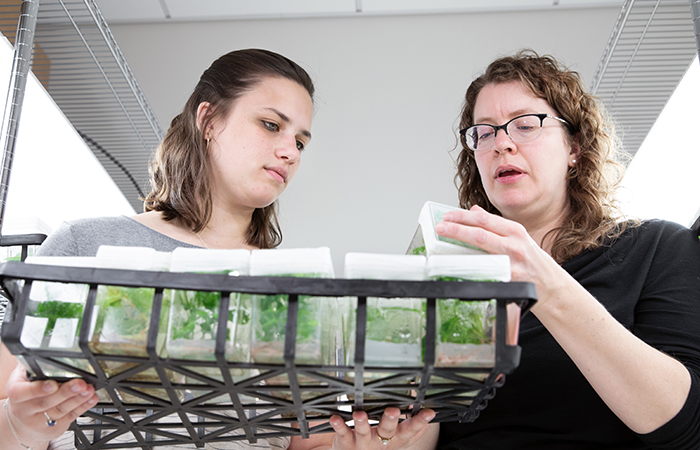 From building on our best-in-class research capabilities to growing interdisciplinary programs and faculty, we're advancing breakthrough research, breakout thinkers and creative risk-takers.
Research Advancement at All Levels
Our research discoveries light the way to new ideas and solutions. As a top-tier research university, we work across traditional disciplines to solve society's greatest challenges.
Strategic investments in recruiting, retaining and supporting outstanding faculty allow us to elevate and expand our research impact, leading to more breakthrough discoveries and bigger, bolder thinking. Together we can fuel discovery. Syracuse University's recruitment of outstanding faculty and retention of high-achievers who are already leaders in their fields can be enhanced through endowed chairs and professorships. With more startup funds for early-career faculty to get established or allow interdisciplinary teams to test the feasibility of high-potential ideas, together we can enable first-of-their-kind discoveries, products and even industries.
Your contributions make new research opportunities possible for students, too. Graduate fellowships help students follow their own research questions and undergraduate students get to work with and discover alongside top scholars in hands-on settings beyond the classroom.
Interdisciplinary Faculty Collaboration
Today's interconnected challenges and questions demand interdisciplinary problem solving. That's why we're committed to connecting people, perspectives and practices to create solutions in emerging fields.
Together, we can make Syracuse University a national and international leader in tackling relevant issues for a rapidly changing world. Interdisciplinary faculty clusters are a proven way for universities to make an impact and distinguish themselves in research and scholarship. In addition to helping recruit and retain faculty leaders through endowed chairs and professorships, investments in interdisciplinary research have impact beyond one college, school or program. Research funds, support for graduate and postdoctoral fellowships in emerging areas and sustaining funds for interdisciplinary centers and institutes are all ways that allow us to arrive at groundbreaking solutions, faster.
High-Potential Research Areas
Artificial Intelligence, Deep Learning & Autonomous Systems Policy
Aging, Behavioral Health & Neuroscience
Energy & the Environment
Big Data & Data Analytics
BioInspired Science & Technology
Innovation & Entrepreneurship
Social Differences & Social Justice
World-Class Teaching
We value leading-edge research and world-class teaching and learning equally. Our scholars and thinkers are not only trailblazers, they're also mentors and guides, helping to shape the next generation of researchers, entrepreneurs, professors, educators and leaders. We are investing in our faculty across the University, because those who are unafraid to discover, invent and innovate bring us closer to a future as bold and bright as our Orange community.

Supporting one of Syracuse University's teaching and learning enhancement programs or faculty development resources helps our outstanding professors create new ways for students to learn—in the classroom, in labs and maker spaces, and in field sites and cities across the nation and around the world. Immersive experiences and hands-on collaborative learning span settings from Syracuse to Santiago, and from stages to screens to startups, giving our graduates the edge in competitive careers.