Unique Learning Opportunities: Out Front to Shape What's Next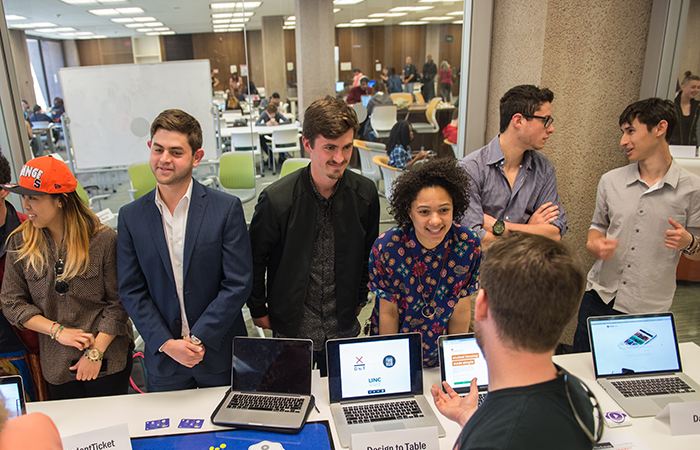 Since our founding, we've championed a future that respects and reflects everyone's contributions. We embrace a proud tradition of welcoming and empowering new learners and leaders of all backgrounds to impact their communities and the world.
Veterans
Following World War II, Syracuse University opened its doors to veterans from the Greatest Generation. They came by the thousands, transforming our University for the better. Today we honor that legacy, through a contemporary commitment to those men and women currently serving and sacrificing for the cause of the nation's defense. Syracuse University's innovative Institute for Veterans and Military Families  serves as our national platform for this effort. On campus, the Office of Veteran and Military Affairs works to ensure our veteran and military-connected students thrive in the classroom and across our community.
The job is not done yet. With your support, we will reaffirm and advance our position as the best place for veterans and military family members.
The National Veterans Resource Center (NVRC), will be a first-of-its-kind hub for veterans and military families to connect with local and state partners, sparking new collaborations, careers and communities. Thanks to a transformational gift, this fully accessible facility will house programs designed to nurture academic research, create actionable programming, and propel our nation's veterans and their families to personal and professional success. The NVRC will be home base for programs that support the whole student veteran, while also hosting outreach programs that have already served more than 125,000 veterans and military family members.
Together, we can continue Syracuse University's long tradition of serving those who have served.
Diversity and Inclusion
From our founding 150 years ago, we've worked to build a community that respects everyone, excludes no one and reflects diverse contributions. Syracuse University has accepted all people as "an institution founded in the interest of truth, which knows no sect, no sex, no color, no contrasts."
Although it only takes one person to have a game-changing idea, it takes many to make it real. We are pioneers in the field of disability studies, policy and law, provide educational opportunities to students of all ages with intellectual and developmental disabilities through InclusiveU and welcome students from around the globe.
Together, we can strengthen our commitment to diversity and inclusion from funding for recruitment and retention of diverse faculty, to scholarships and fellowships, to supporting student-focused cultural centers and ensuring the accessibility of campus facilities.
Learning from others is at the heart of the Syracuse University experience. And we won't stop until we've created an even more welcoming campus—and a more equal world.
Entrepreneurship
Being bold means not accepting business as usual. So we're empowering student innovators and breakout leaders with workshops, resources and opportunities to partner with successful alumni. Whether students establish their own companies or gain first-hand experience in business, they'll be resourceful, responsive and ready to develop the next big idea—not just wait for it.
Syracuse University is one of the few schools in the nation with a formal academic department devoted to entrepreneurship and is consistently ranked one of the best programs. No matter what their major or interest, we support students in disciplines ranging from media to engineering and computer science to information sciences with extracurricular activities and experiential opportunities to provide the total entrepreneurship experience.
Whether your passion is entrepreneurship research, helping students take their ideas from mind to marketplace, fostering healthy competition, providing hands-on opportunities for aspiring entrepreneurs or bringing the startup wisdom of successful company founders to Syracuse University students—together we can spark creativity and fuel the ambition of tomorrow's creative business leaders.