Kendell Wiley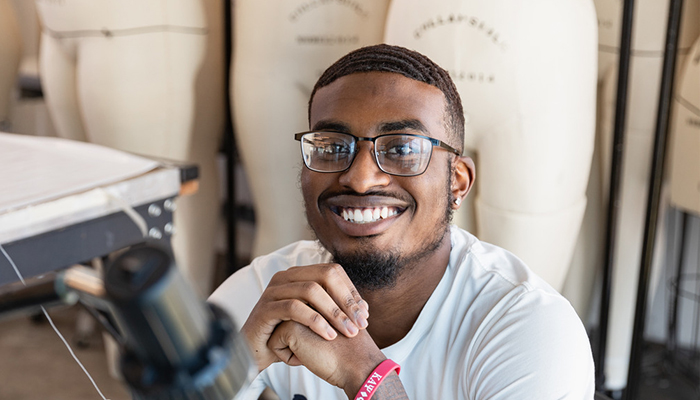 College of Visual and Performing Arts
In developing his brand, "The Kollection," over the past 10 years, Kendell Wiley '21 has refined his fashion concepts as a form of self-expression. This winter, Wiley is executing his final project as a fashion design major in Syracuse University's College of Visual and Performing Arts, and he finds other ways to express himself as well. Serving as a campus leader and peer advisor, he helps others shine.
As an adolescent in a suburb of Atlanta, Georgia, coping with the separation of his parents, Wiley drew simple figures, using words and phrases to illustrate his feelings. "I didn't consider myself an artist, but there were things I was feeling and didn't know how to say, so I found a way to express them," he says. Soon after, Wiley discovered that he could give his expressions a wider audience and, at the same time, help a friend. He started putting his messages onto everyday shirts and sweatshirts. "I would transfer my work onto a hoodie or something they could wear," he says. During high school, Wiley learned to use Photoshop to manipulate his graphics, and he also experimented with tactile methods like embroidery to better articulate his themes.
The discovery that he could apply creative expression to a practical, wearable medium instilled the fashion bug in Wiley. A Posse Scholarship semifinalist in high school, he started considering colleges where he could study fashion and found himself focused on schools up north. He chose Syracuse University when the Student Support Services program helped make it possible for him to fulfill his dream of studying beyond his home state. "I'm often asked why I'm so far from home," says Wiley. "I wanted to travel while I had the opportunity. I wanted to see what else is out there in the world." Read Full Article.