Claire Hughto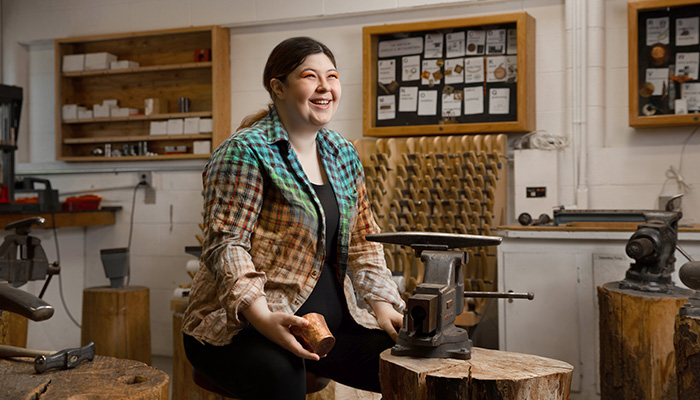 College of Visual and Performing Arts
Hometown: Chevy Chase, Maryland
Major: Studio Art
Class Year: 2023
Describe your Syracuse experience in a couple of words or one sentence:
My Syracuse experience has been rigorous, enriching, and has opened up countless opportunities in all aspects of my life. My blood will run orange for the rest of my life, no doubt.
What attracted you to Syracuse University?
The extensive studio spaces and facilities as well as the competent and impressive faculty and staff.
What organizations are you involved with on-campus that you're really passionate about?
I am the current president of the Jewelry and Metalsmithing Club! The JAM Club is a registered student organization on campus that offers free workshops to students, faculty, and staff from across the SU/ESF community. Our workshops are open to anyone and everyone, regardless of skill level or previous experience. I love the opportunity this organization gives me to be a leader, connect with like-minded peers, and share a little piece of my department and studio knowledge with the rest of my campus community!
What has been your favorite Syracuse experience so far?
One of my favorite Syracuse experiences I've had is being able to participate in the Involvement Fair at the beginning of each Fall semester! All of the student organizations gather together on the quad to share their passions and recruit new members to their organizations. The Jewelry and Metalsmithing Club always participates!
What motivates you to give back to Syracuse?
The students motivate me to give back to Syracuse.
How has alumni generosity impacted your time at Syracuse?
Alumni generosity is constantly providing me and my talented peers new opportunities to study abroad, and show our work in sponsored spaces and facilities that support VPA across multiple disciplines.
If you had a chance to thank a donor right now, what would you say?
Thank you so much for supporting my University! Your generosity funds the maintenance and continued expansion of the studios and facilities offered here on campus that cater to the arts!