Nathena Murray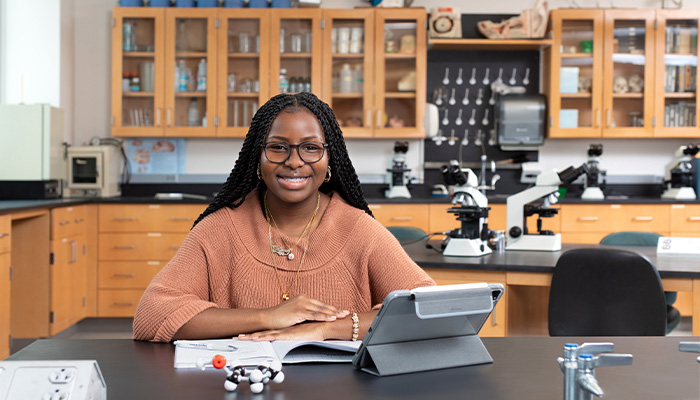 Multicultural Advancement
Hometown: Ossining, NY
Major: Medicinal Chemistry and Neuroscience
Class Year: 2022
Describe your Syracuse experience in a couple of words or one sentence:
My experience at Syracuse University has taught me how to be resilient and keep an inquisitive mind.
What attracted you to Syracuse University?
What attracted me to Syracuse University was the vast alumni network, the school spirit and the numerous volunteer opportunities.
What organizations are you involved with on-campus that you're really passionate about?
I'm really passionate about my involvement with the Juvenile Urban Multicultural Program (JUMP). JUMP Nation's mission is to decrease the high school dropout rate while increasing the enrollment rate into higher education institutions. We do this by recruiting Syracuse University students interested in becoming mentors to local middle and high school students. To build a connection with the students, we host weekly Real Talk Sessions. The purpose of these sessions is to create safe spaces for eighth grade and high school students to discuss topics that interest them. Some of the talking points included: boundaries in relationships, self-confidence, violence, and goals. The fostering of the relationships formed through these sessions allows the students to feel supported and encouraged throughout their academic journey.
What has been your favorite Syracuse experience so far?
My favorite Syracuse experience thus far has been attending Coming Back Together, a reunion that occurs every three years amongst the black and latinx alumni. Listening to their stories and witnessing their success and overall excellence has served as a true inspiration to me.
What motivates you to give back to Syracuse?
I give back to Syracuse so that students of color can have access to the plethora of life-changing opportunities that Syracuse has to offer.
How has alumni generosity impacted your time at Syracuse?
My time here at Syracuse University would have been entirely different without alumni support. I wouldn't have been able to enjoy and take full advantage of all of the university's opportunities because I would be so caught up in how I would afford to stay here. Alumni support made my life-changing experience here at Syracuse possible.
If you had a chance to thank a donor right now, what would you say?
As an Our Time Has Come Scholar, for three years, I've had the privilege to receive an Alpha Kappa Alpha Iota Upsilon Chapter Alumnae Endowment Scholarship and two Delta Sigma Theta Kappa Lambda Chapter Alumnae Endowed Scholarships. To both of these organizations, I cannot thank you enough. Your commitment to making sure that students like myself have a chance to flourish at Syracuse means the world to me. I wouldn't be the person I have grown to be if it wasn't for my time here at Syracuse. Thank you once again for making it all possible!