Justine Hastings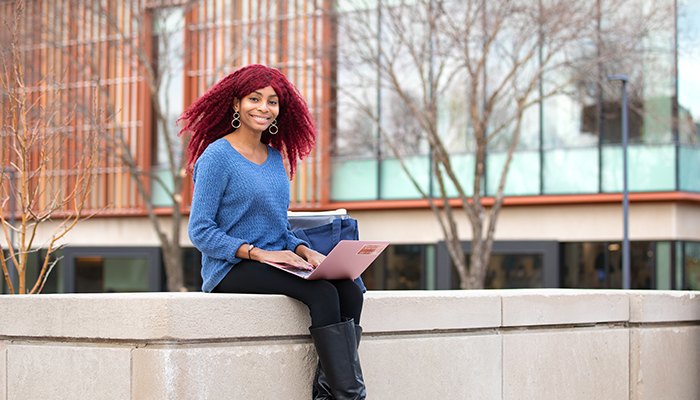 Multicultural Advancement
Describe your Syracuse experience in a couple of words or a sentence:
My Syracuse experience has been extremely rewarding and positively transformative. I have met lifelong friends, supportive mentors, and faculty, and have been provided with many leadership opportunities and resources.
What attracted you to Syracuse University?
SU has a really strong and intensive Secondary English Education program that is dedicated to promoting positive, diverse, and equitable learning environments. It's also unique in that I was able to have field placement experience as early as my freshman year.
What organizations are you involved with on-campus that you are really passionate about and why?
I currently serve as SU's Student Association president where I focus on initiatives to help make the undergraduate experience the best it can be. In this role, I have advocated for more university support for marginalized communities, campus accessibility, and financial access. I fight to make sure that campus learning environments are physically accessible for all and I even brought Callisto, a third-party nonprofit college sexual assault reporting technology, to SU. I have improved Student Association accountability and I actively listen to student voices and implement them into my work. I have worked with a variety of campus partners to implement and promote campuswide programming to celebrate the diverse identities of our population and to host forums where we engage in meaningful and necessary conversations. I am really passionate about my involvement in SA because that is where I try my best to provide structural supports for underrepresented students and underreported student needs.
How has your time at Syracuse shaped you?
I have become a stronger leader at Syracuse due to all the roles I have taken on and the opportunities I have pursued. I have served in various representative and leadership capacities to make SU a more inclusive community. I mentor students on research skills as a Student Research Mentor for the SOURCE. I also continue to engage in research as an assistant for SU's Engaged Humanities initiative. In this role, I create short films featuring, highlighting, and celebrating the work of SU's community partners. By doing this, I contribute to public humanities research and help develop and support community partnerships. I am a WellsLink Leadership Program Peer Mentor where I serve as a resource and mentor for first-year students of color by providing them with the tools necessary to achieve their academic goals, develop professionalism, and expand their awareness of valuable resources and opportunities. I served as an Academic Coach for CLASS. My responsibilities included teaching students successful study strategies and helping them implement these in their courses. I have served as a Peer Facilitator for SEM 100 where I facilitated small-group conversations with incoming students about belonging, diversity, and inclusion. I was the Secretary of Pride Union and a Fusion Facilitator for the LGBT Resource Center, where I engaged queer/trans students of color in a bi-weekly discussion. In both of these roles, I served as a resource, consultant, and liaison to the campus LGBTQIA+ community. I have also served as an InclusiveU Residential Mentor. In this role, I was the roommate and mentor of a student with autism. I served as a positive social and academic role model by supporting my mentee with her involvement on campus. I also worked as a Resident Advisor in the freshman dorms of Flint and Sadler Hall. In this role, I organized events, created a friendly community, and helped students reach their full potential during their first year away from home. My goal was to make sure that each of my residents completed all their goals as freshmen and had the capability for growth as they transition to sophomores. In all of my work, I have striven to develop identity-affirming spaces, raise a sense of student belonging, and advocate for effective academic supports for all students.
What has been your favorite Syracuse experience so far?
My favorite experience at Syracuse was pursuing my SOURCE grant research project. During my junior year, I started a documentary filmmaking program at the Northside Learning Center (NSLC) in Syracuse. Using an undergraduate research grant, I purchased equipment, software, and materials, and crafted a timeline and curriculum for this project. The NSLC is the ideal site for this work because it is a nonprofit that serves refugees and immigrants who are learning English, and my filmmaking program aligns perfectly with their mission of youth literacy development. The project also addresses a lack of empirical research about the promise of multimodal literacy practices (e.g., filmmaking) for adolescent multilingual English language learners. My work responds to this research gap and contributes knowledge to the fields of multimodal literacy and youth media education.
What motivates you to give back to Syracuse?
My mother was a very giving person and she has instilled those values in me.
Why do you think alumni should support SU?
Alumni should support SU so they can support our (future) leaders. I have directly benefitted from alumni support as an Our Time Has Come scholarship recipient. The scholarship gives me the ability to pursue my dreams and goals by alleviating financial concerns and constraints. Not only does OTHC support me financially but it also provides me with so many opportunities to network with leaders in my field and connect with my fellow peers of color. I have met many of my mentors and my friends through the OTHC program and for that I am eternally grateful.
If you had a chance to thank a donor right now, what would you say?
I would like to sincerely thank you for your generosity. It is due to your unwavering support that student leaders can accomplish so many great things at our beloved university.
Why are you proud to be a part of the Orange family?
Like the color orange, we (the Orange family) are bold, vibrant, and dynamic. We are critical of the current norms and conditions and we aren't afraid to hold ourselves and others accountable. These are all qualities I am proud to share with my Orange family.