Grace McCormick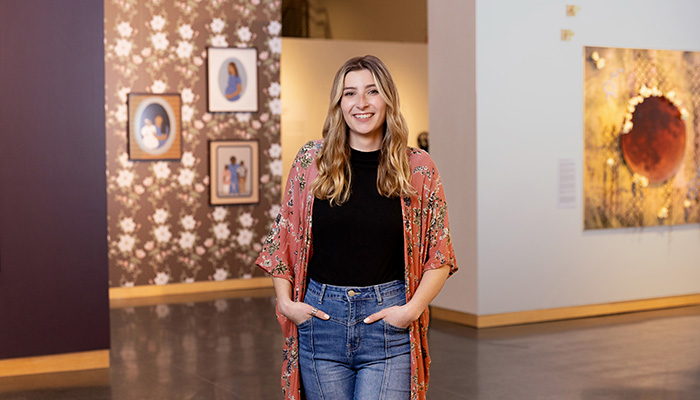 Syracuse University Art Museum
Hometown: Bliss, NY
Major: Art History and Newspaper and Online Journalism
Class Year: 2022
Describe your Syracuse experience in a couple of words or one sentence:
Syracuse made me realize that I had a whole campus of people who wanted to help me succeed.
What attracted you to Syracuse University?
This felt like the place that was going to challenge me.
What organizations are you involved with on-campus that you're really passionate about?
My work with the SU Art Museum has been one of the things I am most proud of. I learned so much about inclusive and innovative museum practices and those are things I am going to take with me for the rest of my career. I know the work we did with the redisplay of the permanent collections is going to live on after I leave Syracuse and my hope is it makes someone else feel like they belong here.
What has been your favorite Syracuse experience so far?
I have loved feeling a part of the Syracuse community.
What motivates you to give back to Syracuse?
I just know that I have had so many faculty and staff members that do everything they can to help me succeed and I will always be grateful for that. I would give back to Syracuse because I hope other young students can find that support here and their goals can become reality.
How has alumni generosity impacted your time at Syracuse?
I was fortunate enough to receive a grant to be able to accept an unpaid internship at a museum over the summer of 2021. This grant was the only way I was able to accept the internship and gain invaluable hands-on experience inside a museum. The experience I gained during that summer has been a large part of my graduate school applications and my own professional development.
If you had a chance to thank a donor right now, what would you say?
The SU Art Museum is an amazing resource for students interested in art and museums. There are so few paid internships and professional development experiences available to college students. I am so grateful that SU Art was able to find money in their budget to give me some compensation for my work but I would love to see more established internships and fellowships for students hoping to pursue a career in art museums. The museum is truly doing such amazing work to make their space an inclusive and enriching space on campus and I hope they can continue doing that.