Bianca Andrada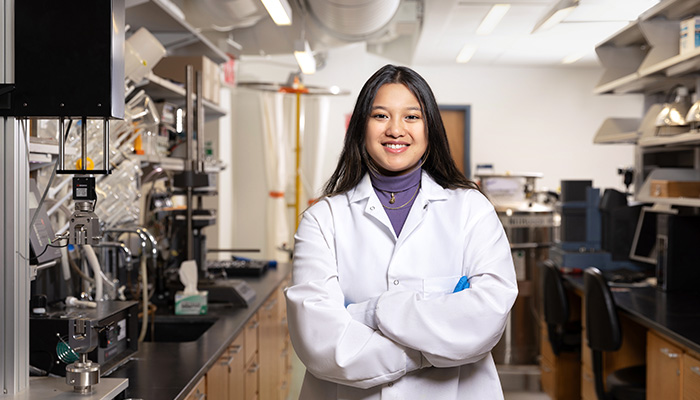 College of Engineering & Computer Science
Hometown: New York, NY
Major: Bioengineering
Class Year: 2022
Describe your Syracuse experience in a couple of words or one sentence:
One big school-spirited Orange family.
What attracted you to Syracuse University?
The school spirit of the students when it comes to our football and basketball games. I never really appreciated it until the pandemic hit. Since then, I have gone to every football and basketball game. Also, the College of Engineering and Computer Science provides a lot of academic support for their students when they are transitioning from high school to college. This was important to me as I felt I would struggle during this transition.
What organizations are you involved with on-campus that you're really passionate about?
I am President of Engineering World Health which is an engineering organization that challenges engineers to apply their skills to solve medical-related problems in resource-poor communities of the developing world. To do this, we host Soldering Workshops, CAD Workshops, and Design Workshops. In addition, we help students apply for Engineering World Health Summer Sessions where they go to a developing country and work with hospitals and clinics to help with their hospital equipment.
What has been your favorite Syracuse experience so far?
My favorite experience was being a part of Invent@SU. For me, it helped me understand how I would like to apply my bioengineering degree and what type of environment I thrive in, which is collaborative.
Invent@SU gave me something that no other internship, program, or class could. It gave me an opportunity to work with people who were not from my college and major, allowing me to converse and work with individuals that viewed products through a different lens. I was provided with opportunities to prove to individuals my depth, understanding, and skillset in bioengineering. Lastly, I was provided with mentors that helped and have continued to guide me through my last year at Syracuse University.
What motivates you to give back to Syracuse?
The community. I want to continue the tradition of providing a support system to future Syracuse students like myself.
How has alumni generosity impacted your time at Syracuse?
Because of alumni support, I have been able to create engineering projects that are geared toward my interest. Without this type of support, I would have not figured out my passion for wanting to continue my education further.
If you had a chance to thank a donor right now, what would you say?
Thank you for creating an unforgettable college experience that truly helped me piece together my next set of goals and aspirations.