Julia Fickenscher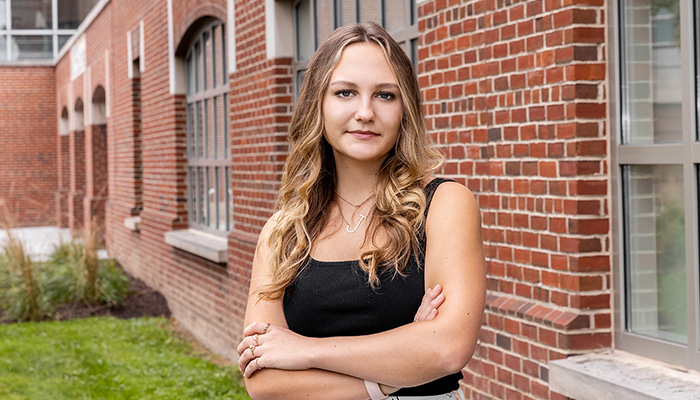 David B. Falk College of Sport and Human Dynamics
Hometown: Ventura, CA
Major: Nutrition (minor in Sustainable food enterprises)
Class Year: 2022
Describe your Syracuse experience in a couple of words or one sentence:
My time at Syracuse University has provided me with both professional and personal relationships that I truly could not have gotten anywhere else; the support system I have developed here has turned me into the person I am today, and I could not be more grateful!
What attracted you to Syracuse University?
The moment I set foot on Syracuse's campus, I was greeted with a strong feeling of community and belonging. It gave me a sense of adventure, purpose, and friendship that I knew I wanted to be a part of. It is a big school with lots of small and intimate connections, which is something that is hard to find anywhere else.
What organizations are you involved with on-campus that you're really passionate about?
I am involved in Baked Magazine as the social media manager. Baked Magazine combines my love of food with my interest in social media and gives me the opportunity to share my loves and passions with like-minded people. It is a well-run magazine organization that provides me the opportunity to explore interests beyond my major!
What has been your favorite Syracuse experience so far?
My favorite Syracuse experience is definitely game days: it is a frequent reminder that we are all rooting for the same team, and brings a sense of energy and community that Syracuse is truly known for. "Bleeding Orange" could not be more true of a term!
What motivates you to give back to Syracuse?
Syracuse has given me so much. It has provided a stellar education, unique career opportunities, and everlasting friendships. I know all of these factors were qualities I wanted in college life, but I never thought I could truly achieve them in the way that I have. That makes me want to give back; almost as a "thank you" for all they've given me.
How has alumni generosity impacted your time at Syracuse?
Thanks to the alumni support, I have been able to have an immersive and enriching education. Their kind support has given me the opportunity to use unique equipment and explore unique facilities, which makes my classes and experiences that much more fun!
If you had a chance to thank a donor right now, what would you say?
Thank you for showing me all the ways it means to "Bleed Orange." Thank you for giving me the opportunity to have the college experience I've always dreamed of, and thank you for showing me what it means to give back!