Kalee Biglin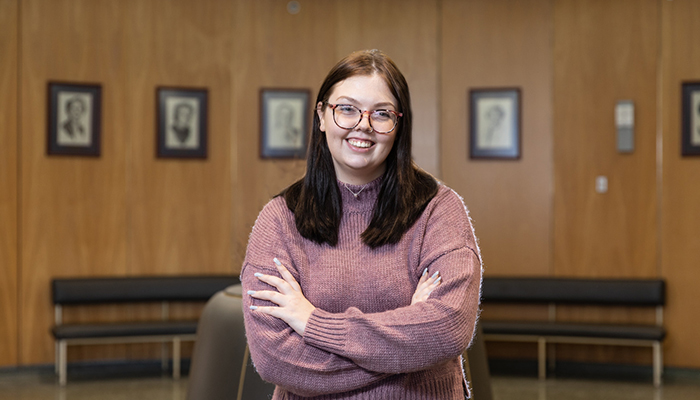 David B. Falk College of Sport and Human Dynamics
Describe your Syracuse experience in a couple of words or a sentence:
Indescribable. Syracuse has given me such an amazing 4 years and it's really hard to think about saying goodbye. I wouldn't be who I am today without Syracuse.
What attracted you to Syracuse University?
The atmosphere on campus and the school spirit was unlike any other campus I toured. I also loved all the opportunities for field experience and shadowing.
What organizations are you involved with on-campus that you are really passionate about and why?
Alpha Gamma Delta because it has helped me find a community of women with the same values and Alpha Phi Omega that has taught me how to be a leader and gave me so many volunteer opportunities to give back to this community that means so much to me.
How has your time at Syracuse shaped you?
It's pretty cheesy but I really found myself here. I was a very shy and quiet person when I moved in freshman year, but I learned how to come out of my shell, find what matters most to me and how to surround myself with those that inspire and support me, and really learn about what makes me, me! I learned that I have a huge passion to help others, I developed my leadership abilities and was even the president of the community service fraternity, and just appreciate everything I have and live day by day.
What has been your favorite Syracuse experience so far?
My favorite experience so far has been helping Falk College with prospective student events and talking about my time at Syracuse and answering questions about the major. I love being a part of helping students make their college decisions and expressing my love for Syracuse.
What motivates you to give back to Syracuse?
Syracuse has had such an incredible impact on my life and I will always be grateful for that. This community has given me an education I value and 4 years of amazing memories so I will always feel indebted to Syracuse. I hope to be able to give back to Syracuse even a fraction of what it has given me.
Why do you think alumni should support SU?
Everything I have done on this campus would not have been possible without alumni support. I want students for generations to come to be able to have their own amazing experiences as I have. This school is so unique and special because of the gracious support from our alumni.
If you had a chance to thank a donor right now, what would you say?
I would say thank you for helping me become the person I was meant to be. My past 4 years would never have been as amazing as they were without the support from you and I am so thankful.
Why are you proud to be a part of the Orange family?
I am so proud to be surrounded by so many talented, dedicated, and driven people who I know are going to make changes in this world and it's an honor to call them my orange family.