Isabelle (Izzy) Hong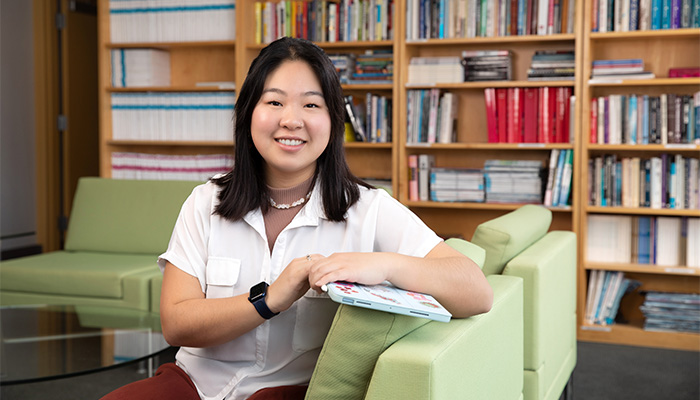 S.I. Newhouse School of Public Communications
Hometown: Metuchen, NJ
Major: Advertising
Class Year: 2022
Describe your Syracuse experience in a couple of words or one sentence:
I have finally felt free to explore my own passions and identity. I was involved and prioritized my time towards things that felt fulfilling and solidified a productive work ethic and time management.
What attracted you to Syracuse University?
The S.I. Newhouse School of Public Communications attracted me as well as an 'Accepted Students Day' Panel at the Lubin House in NYC.
What organizations are you involved with on-campus that you're really passionate about?
I am involved with First Year Players as I love theater and did a lot of shows in high school. I am definitely a film buff, thus joining Delta Kappa Alpha, the cinematic professional fraternity was a must. I am also a part of the Forever Orange Student Alumni Council and love the opportunities to get involved as well as give back to the school that helped pave my future.
What has been your favorite Syracuse experience so far?
My favorite Syracuse experience so far has been creating my small business using skills I've learned within my advertising classes and hosting a pop-up store that shattered all expectations in the best way possible.
What motivates you to give back to Syracuse?
The many opportunities I've been given are the motivation I have to give back to Syracuse. I think I've been very privileged in the goals I've completed and opportunities, thus I'd like to give back to Syracuse and most importantly other students as well.
How has alumni generosity impacted your time at Syracuse?
Alumni generosity to me is the countless hours I've spent meeting with alumni and getting help in terms of my life path and future job prospects.
If you had a chance to thank a donor right now, what would you say?
Thank you for helping students achieve their goals and aspirations. The alleviation of financial stress and boundaries is so important in helping others dream the way you once have. Thank you again for giving us opportunities at funded facilities and programs.