Sean Dorcellus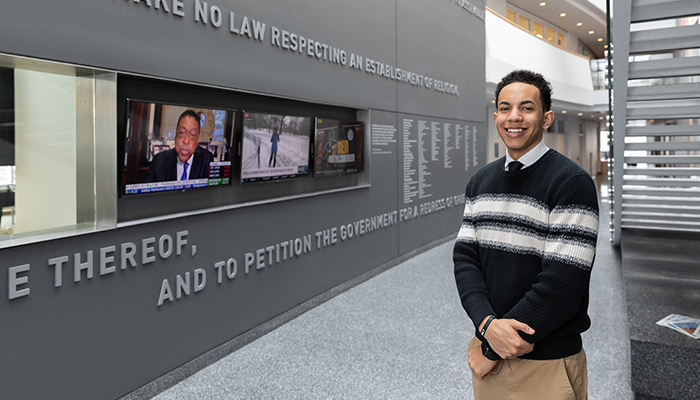 S.I. Newhouse School of Public Communications
Describe your Syracuse experience in a couple of words or a sentence:
I have been fortunate to enjoy some special experiences with some special people!
What attracted you to Syracuse University?
I was drawn to the prestige of the Newhouse School and the great alumni network.
What organizations are you involved with on-campus that you are really passionate about and why?
My roles as an Orientation Leader Newhouse Ambassador have been meaningful to me because they provided me with the opportunity to meet and work with fellow students while giving back to those that are new to the SU community.
How has your time at Syracuse shaped you?
My time at Syracuse has helped me to realize that everyone has a story. I have grown in appreciation for people and their respective journeys as I have met and interacted with so many people from so many walks of life. I value this growth and it has paid dividends for me in my personal and professional life.
What has been your favorite Syracuse experience so far?
My favorite Syracuse experience so far has been serving as Student Co-Chair of the 2021 Dr. Rev. MLK Jr. celebration, the largest event of its kind on a college campus in the country.
What motivates you to give back to Syracuse?
When our time to leave any place comes, all that we have left is the way that we made people feel. I want my legacy to be one of impact.
Why do you think alumni should support SU?
At some point in your collegiate life, someone helped you! Paying it forward will help the next wave of SU alumni to pursue their passions and achieve their goals.
If you had a chance to thank a donor right now, what would you say?
Thank you! All it takes is one moment or one experience to change a college student's life. If your contribution has helped to make that happen, then your donation is well worth it.
Why are you proud to be a part of the Orange family?
I am proud to be a part of the Orange family because it is a family that has given so much to me! I always say that it is the most special thing about Syracuse University is the people. This family, as big as it is, genuinely cares for one another. Let's keep the good times going!