Katherine Villarin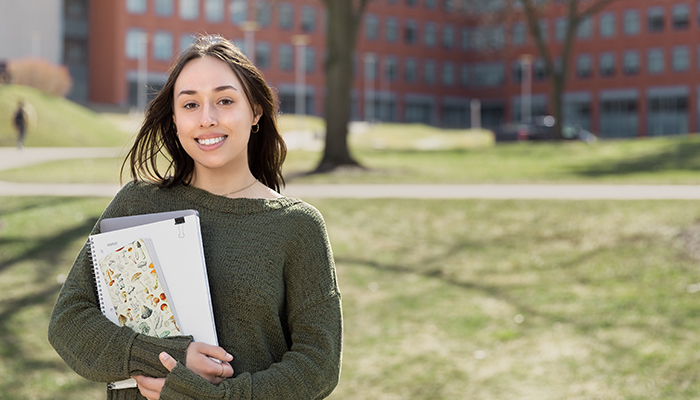 Enrollment and the Student Experience
Describe your Syracuse experience in a couple of words or a sentence:
eye-opening, challenging, unexpected, valuable
What attracted you to Syracuse University?
While it sounds cliche, my tour here made me feel welcome, and I didn't get that sensation at every other place I visited. At some smaller schools and many of those considered "elite," I felt as though kids who were uncertain or undecided in their path were pushed to figure it out before entering. For most 18-year-olds, it's too early to be positive what you want to study for the next four years. Not only that, you'll probably find new interests 20 years down the line that you want to pursue. Telling high school students that there is one road to every destination is a lie, and the world is so much larger than that.
What organizations are you involved with on-campus that you are really passionate about and why?
Since my first semester on this campus, I've been a member of one of the all-female identifying a cappella groups. I'm grateful for that to have been my first home here. I found mentors in the upperclassmen, women who could share their experiences on and off of this campus, who worked so hard in their respective fields, who saw me for who I was, and wanted to watch me grow. It provided a space to feel safe as well as make music. I had something similar with First Year Players too, a place where I could pursue creative interests even if they didn't line up with my studies. As someone who studies science but lives for art, it provided a space, and brought me my closest friends. Though things change greatly over the years, new people came into these spaces, and it's easy to lose touch, I am thankful for my experiences. I hope everyone finds something like that, even if just temporary, even if just when they need it the most.
How has your time at Syracuse shaped you?
My time at Syracuse has taught me more about things that I already cared about but didn't fully understand. It has surrounded me with people who helped me to see the intersections between different aspects of life that need fixing, things that don't exist in a vacuum. For example, how the climate crisis, environmental justice, and food security go hand in hand, and how the COVID-19 pandemic exasperated damaging motives of those who hold power in our country and left minimum wage workers to suffer. As someone who is planning to work in healthcare (or adjacent to it), I am thankful for the peers I've met and friends I've made here for allowing me to see the ways that public health is connected to nearly everything else. After all, medicine is not an isolated field by any means.
What has been your favorite Syracuse experience so far?
My favorite Syracuse experience might have to be leaving Syracuse for a semester. I'm beyond lucky to have been abroad for a full semester just before the start of the pandemic, something that so many of my friends and classmates had cut short or removed entirely as a possibility. It was a time of personal reflection, a chance to break out of the SU bubble, and such a rewarding experience to build a relationship with a mother entirely in another language.
What motivates you to give back to Syracuse?
What motivates me to give back is the fact that higher education is not accessible to all populations. For costs of tuition that are already so high to be rising still, and for student debt to be such an issue for graduates, there needs to be a major shift in the financing of education - at a systemic level. Unfortunately, until that ever happens, the most we can do is aid our neighbors in their endeavors if we can.
If you had a chance to thank a donor right now, what would you say?
I'd say thank you for doing something that shouldn't have to be necessary. I hope that one day it isn't and that one day, education isn't something that only "secure" populations can achieve. For now, providing more students with the chance to attend a big school with a variety of nooks to crawl into, that's worth it, and I'm thankful for the donors who help to make that possible.
Why are you proud to be a part of the Orange family?
I am proud of my peers. I'm proud to know people who aren't submissive when they're being wronged, people who make noise when they're not being heard, people who recognize that broken systems need to be torn up at the roots rather than just accepted. I owe so much of who I am to the students and professors who would rather see change than fall in line.