Lily Wolfer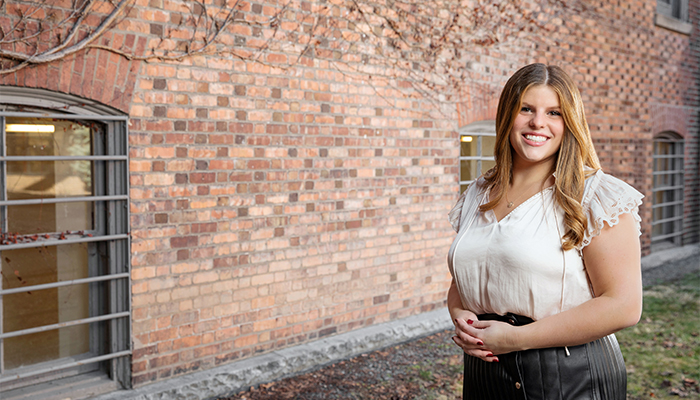 Describe your Syracuse experience in a couple of words or a sentence:
My Syracuse education has been four years filled with growth and responsibility, as well as enriching and enlightening experiences with wonderful lifelong friendships made.
What attracted you to Syracuse University?
The School of Education, specifically the Inclusive Elementary and Special Education program immediately drew me to Syracuse University because of the immense amount of field experience that you get starting freshman year. I realized that this was a unique opportunity exclusive to Syracuse's School of Education.
What organizations are you involved with on-campus that you are really passionate about and why?
I am the vice president of Kappa Delta Pi, the international honor society in education. This organization brings together like-minded, dedicated, educators for peer support and educational programming. I am extremely passionate about KDP's community outreach. For instance, KDP hosts fundraisers to provide school supplies for local public schools. We also have a volunteer tutoring program for local public schools. KDP provides its members a community of academic and peer support.
How has your time at Syracuse shaped you?
My experiences at SU have allowed me to grow into a distinguished and confident scholar while molding me into the passionate educator and social justice activist I am today. I am so grateful for my time at Syracuse as my entire career trajectory has been influenced by the inclusive education program. I will forever cherish my cohort of around fifteen women that I have been taking classes with and teaching with since my freshman year of college. We will be lifelong friends and we will continue to lean on each other in our future careers as educators.
What has been your favorite Syracuse experience so far?
My favorite Syracuse experience so far has been having dinner at my professor's house with my cohort. This has solidified how amazing the Syracuse professors are and how much they care for their students, even outside of formal classroom instruction. The school of education is so tight-knit and personal; I am so lucky to know and learn from the supportive, knowledgeable, and kind SU professors.
What motivates you to give back to Syracuse?
Syracuse has allowed me to reach my potential as a scholar. I have learned so much about myself and have made the most amazing, life-long relationships with professors and students. I could not imagine a better institution to give back to.
Why do you think alumni should support SU?
Alumni should support SU because it will provide further opportunities for current and future Syracuse students. Financial circumstances should not impact any student's ability to succeed at SU and a donation can greatly support a student's ability to continue their higher education and become future inclusive educators.
If you had a chance to thank a donor right now, what would you say?
I would say thank you, I am extremely grateful for your generous donation. You have meaningfully impacted Syracuse students' lives by allowing students to continue their education despite challenging financial circumstances. You have supported inclusive and equitable education with your donation!
Why are you proud to be a part of the Orange family?
I am proud to be a part of the Orange family because we are a community filled with diverse and exceptional researchers, educators, musicians, activists, engineers, architects, athletes, and many more. The Orange family is an encouraging network that lasts throughout your life. I am proud to be able to graduate and say I am a part of the Orange family.