Barrington Bucknor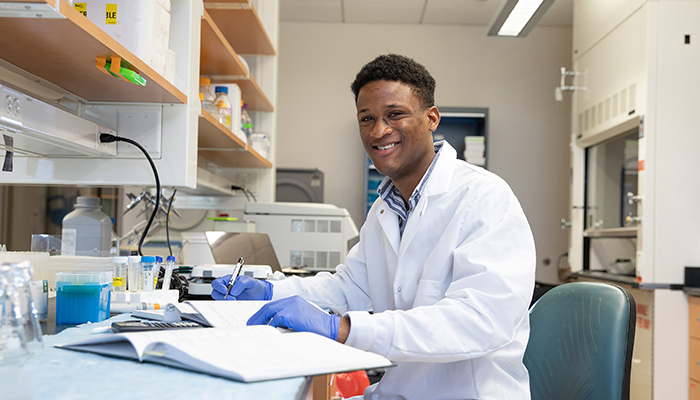 College of Arts & Sciences
Describe your Syracuse experience in a couple of words or a sentence:
Beyond anything that I could have imagined, incredible and at times breathtaking.
What attracted you to Syracuse University?
My attraction to Syracuse University was twofold. I wanted to be at a university that would challenge me as a STEM major to be the best that I can be in an ever-competitive field. I wanted to be in an atmosphere where I could have access to opportunities such as research, study abroad, and the ability to give back to a community that would give me the skills that I need to become a great physician one day. Secondly, I wanted to be surrounded by people that would push me outside of my comfort zone and sensing the student interaction on campus I knew that I could do that at Syracuse University.
What organizations are you involved with on-campus that you are really passionate about and why?
University 100: This organization has brought me so much joy and has allowed me to meet individuals from around the country that has been attracted to the Syracuse University campus. Additional, through this organization I have had the ability to impact students and their family and they have done the same by making me a better person.
Pride Union: This organization is important to me because I am able to impact and make a positive change on campus. Through this organization, I am able to create a safe space for individuals to be themselves no matter what their identities are or what identify they feel connected with.
Deans Team: Being a member of the Dean's Team for the college of A&S allows me to engage more with students that are seeking to become a part of the A&S family. It allows me to share specific opportunities of research, internships and thought-provoking courses that they will have the opportunity to take.
Camp Kesem: This organization means so much to me because of my family's personal battle with cancer. My grandmother lost her battle to cancer when my mother was a child and despite it being several years later, my family still mourns the loss. Through this organization, I can be there for a child through and beyond their parent's cancer. It affords me the opportunity to make a child smile and be that person to help reassure them that everything is going to okay.
How has your time at Syracuse shaped you?
My time at Syracuse has molded me into the man I see myself becoming in the future. My time at Syracuse has been pivotal because I was faced with obstacles that challenged the preconceived notions I had about society. Through courses and organizations, I have developed a perspective on life that cannot be bought but has to be experienced.
What has been your favorite Syracuse experience so far?
One of my favorite experiences to date is getting the opportunity to be one of the co-hosts of Own the Dome that seeks to welcome admitted students and give them an opportunity to see what life on the Syracuse University campus would be. That was a full-circle moment as going into Syracuse I was lost and had no idea what I was looking for in a college and now I was in a position to help someone make the right decision if they were unsure as to whether or not SU was the right institution for them.
What motivates you to give back to Syracuse?
What motivates me to give back is all the opportunities I was fortunate to take advantage of as a student. Syracuse University has helped to make me the person that I am today. I am motivated to give back because as a first-generation college student I have been given opportunities that have enriched my college experiences and have made me prepared to explore any career path that my ambitions lead me. I am motivated to give back so that other students similar with similar stories to mine can have the same, if not a better, experience from what I have had.
Why do you think alumni should support SU?
As alumni, you have experienced first-hand all the great things in terms of career growth, research and student body interaction that Syracuse University offers its students. Throughout your time you yourself or someone you know might have heard of how much of a financial burden it is for some students to afford the cost of attendance to enjoy all that SU has to offer to their students. As alumni, your support helps several students like me who might be first-generation college students. Your support is needed because it helps to give students from diverse backgrounds the advantage they need to become the best version of themselves while setting and achieving goals that they have set for themselves and their families.
If you had a chance to thank a donor right now, what would you say?
I would say that the word "Thank you" doesn't do justice to how grateful I am for all the support that you have given the University but for now thank you for all that you do.
Why are you proud to be a part of the Orange family?
I am Proud to be orange because being a part of the orange family means that I am connected. It means that I am a part of a worldwide community that has been proven to be pioneers, paving the way for future generations.