Zainab Olanipekun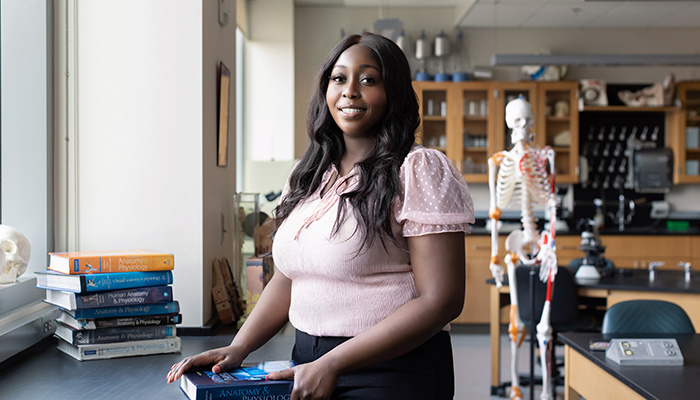 College of Arts & Sciences
Hometown: Florham Park, NJ
Major: Psychology
Class Year: 2022
Describe your Syracuse experience in a couple of words or one sentence:
The most transformative but necessary time of my life.
What attracted you to Syracuse University?
The school spirit, the sports, and the prestige of the university. I also wanted to go to a university where I wouldn't feel drowned or left out. Syracuse felt very homey and familiar. I really was not sure if I wanted to be more than a drive away from home, but I knew this is what was best for me. Syracuse also accepted me into a major that I was unsure of and that made me feel like they believed in me as a student.
What organizations are you involved with on-campus that you're really passionate about?
I am a member of Gamma Phi Beta and I am very passionate about being in Greek life and helping to make it more inclusive. Especially at a time when I was super vulnerable at SU, this organization helped me grow into the woman I am today. I love being a part of a strong group of women who encourage each other and grow together. My time here would've been different without them.
What has been your favorite Syracuse experience so far?
My favorite Syracuse experience so far has been falling in love with my major and becoming more sure of myself and my abilities. I was super unsure of what I wanted to do and never really loved science coming into SU but the teachers I've met and the friends I have made, have made this experience all the better. I know that I'll be supported and prepared for anything I do in the future.
What motivates you to give back to Syracuse?
I am motivated to give back to SU because this school has done so much to impact me. Without this experience, I do not even know where I would've been or what my passions would be. I would love to help impact another student like myself who ventured on to SU and fell in love with everything the campus has to offer. Without the generosity of donors, students cannot receive the funding they need.
How has alumni generosity impacted your time at Syracuse?
Alumni generosity has impacted my time at Syracuse because they made it possible for me to attend the school. Without the gracious support, I may have not been here right now. It is great to see such a strong Orange network that wants to support current students.
If you had a chance to thank a donor right now, what would you say?
Thank you so much for your generosity as it has greatly impacted my time at Syracuse. I appreciate the ways you are able to support me as a student and cannot wait until I can do the same. My dream of attending SU has officially been fulfilled and I couldn't have done it without generous people like you.