Benjamin Piers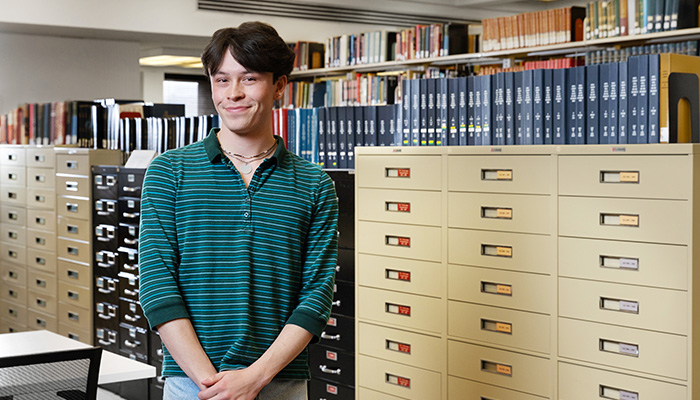 Libraries Student Employee
Hometown: Sandwich, MA
Major: Art Video
Class Year: 2022
Describe your Syracuse experience in a couple of words or one sentence:
It has been everything I could have wished for in a college experience but in order for me to fully appreciate what I was given here, I must now say goodbye to it.
What attracted you to Syracuse University?
Specifically, my major and how creative I would get to be within VPA.
What organizations are you involved with on-campus that you're really passionate about?
I am involved in a variety of organizations on campus. I will forever be grateful for my time as an Orientation Leader. I gained the most valuable skills as I welcomed thousands of first-year students to this campus. I have never felt closer to a group of people than I have with my fellow OLs. Hands down it has been the best organization I have been a part of in my years at Syracuse. I am also very lucky to be involved with Jerk Magazine as the Head Fashion Photographer. With my major, I primarily work in video form, so being able to enhance my photography skills and increase my passion for fashion photography has been such a pleasure. My biggest accomplishments have been Art Directing and shooting the past 6 fashion spreads. As well as having my photos selected for the cover of 3 separate issues.
I like my job at the Libraries because it's centered around my major. I am able to film and edit videos, take pictures, create media for social marketing etc. which is exactly what I want to do after college. This job is helping me prepare myself for the workforce and I am thankful for that opportunity. I matured as a student employee and person while in this position. Everyone in the office was welcoming and extremely easy going. I loved working here! I was able to become a better editor and filmer because I was consistently making videos each week.
What has been your favorite Syracuse experience so far?
My favorite Syracuse experience definitely has to be my first Welcome Week as a sophomore in 2019. I have never been so happy to be up at 6 am moving students in, losing my voice from talking all day, and be around 44 people 24 hours a day. It was all worth it for the smile that was stuck on my face. I miss it to this day and would do anything to be back in that moment in my life for just a second. There have been countless other times I have felt this happy after but this moment in my four years stands out above the rest.
What motivates you to give back to Syracuse?
I am incredibly privileged with my own experiences and I am very aware of that. Not everyone on this campus has had a good experience like I was fortunate enough to have. I would say that alone motivates me to make sure I can help people realize they can find themselves here and make the most of it. Higher education, college, and this school are not for everyone but we are so lucky to be here and I have been able to gain so much knowledge and understanding that I wouldn't have without being here. What motivates me are the people I meet, the resilience of this student body, and the hope I can help someone feel like this is their home.
How has alumni generosity impacted your time at Syracuse?
Since the moment I stepped on this campus, I have felt the massive impact that the alumni have on this student body. I have spoken with several alumni through organizations I am a part of and every time I am left thinking about how much love they have for this school. As students here we are connected for the rest of our lives. When I graduate in May and become an alumnus, I know for a fact I will take what I have learned and the relationships I have made and will always carry them with me. It's true when they say Orange Nation runs deep. And as cheesy as it sounds, I know I will never be alone once I graduate. My father once told me he was at a gas station one afternoon in my hometown. He was waiting for his car to fill up and someone started yelling at him. "WOO, GO ORANGE!" You could say my father was confused but then he realized he had a Syracuse bumper sticker. Truthfully that's when I knew I would always have this strange connection to people that I won't ever know, just because I went to Syracuse.
If you had a chance to thank a donor right now, what would you say?
You've undoubtedly helped my Syracuse experience be the best that it could have been. Even if it's not shown enough, we appreciate all that you do, thank you.