Lauren Kruthers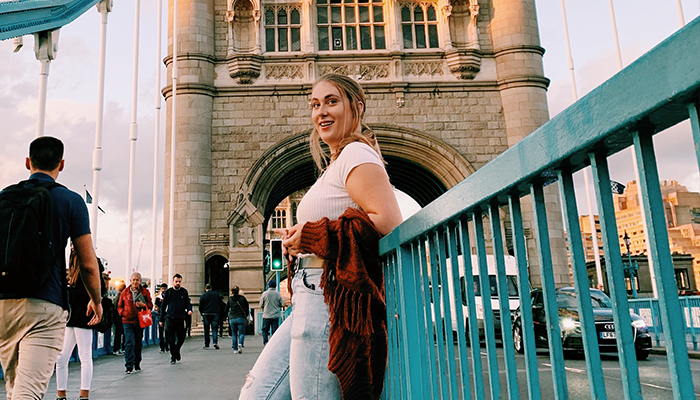 Syracuse University Libraries
Describe your Syracuse experience in a couple of words or a sentence:
Like a rollercoaster: with ups and downs but an overall exhilarating experience.
What attracted you to Syracuse University?
My program, the legendary name, the school spirit. I knew I was home the first time I stepped onto campus at 17.
What organizations are you involved with on-campus that you are really passionate about and why?
I am a member of greek life (Delta Phi Epsilon) and Women in Technology, I love both these organizations as they've helped me grow as not only an individual but shaped me into who I am today.
How has your time at Syracuse shaped you?
The iSchool has done a lot for me during my time at Syracuse. I worked a lot with professors on a personal level as a Teaching Assistant my sophomore year and it taught me a lot not only about myself professionally but what capabilities I had that I was not utilizing.
What has been your favorite Syracuse experience so far?
Over the summer, I helped one of my best friends move across the country from Syracuse to Dallas, even with the pandemic, I realized that Syracuse University has given me lifelong friendships and even people I consider close enough to be my chosen family. The experiences I've shared with my friends from visiting each other to even just getting dinner means so much to me. I do not know who I would be without my chosen Orange family.
What motivates you to give back to Syracuse?
All it has done to help me prepare to be a member of the professional world.
Why do you think alumni should support SU?
Because we are fortunate enough to already be at such an amazing school, but there is always room for improvement. I know these donations improve much-needed campus facilities and resources that improve the success of students here at SU.
If you had a chance to thank a donor right now, what would you say?
Thank you for donating in order to give me the best possible four years at Syracuse and that their donations do not go unnoticed.
Why are you proud to be a part of the Orange family?
Because of the unconditional support, I will receive for the rest of my life, on or off-campus.