Eunice Boateng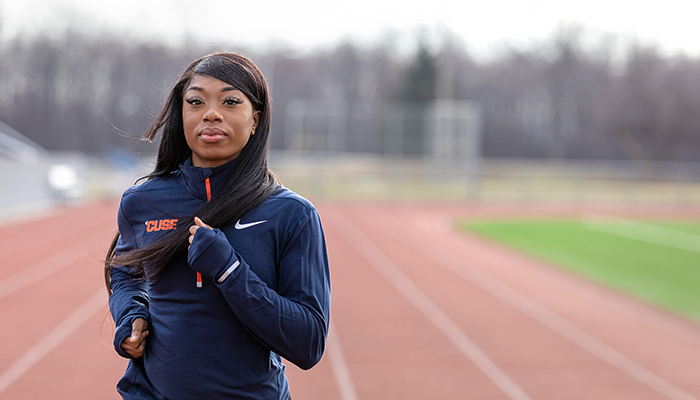 Describe your Syracuse experience in a couple of words or a sentence:
My journey at Syracuse has definitely been a roller coaster nevertheless; clear ups, downs and dips that ultimately molded me into the competent, confident and purpose-driven Orange woman I am today. As a student, athlete, and leader things get busy, however, every moment of being Orange was worth it. I'd do it again in a heartbeat. The opportunities, life lessons, and peers that I've come across here are indisputably irreplaceable. Forever Orange.
What attracted you to Syracuse University?
The main thing that attracted me to Syracuse University was the fact that it ultimately felt like a home away from home; a place that I would foresee myself developing into the woman I am today. As a recruited student-athlete I got the amazing opportunity to visit for several days before deciding to come here, and I can really and truly say that those few days were unforgettable. As a Canadian, I'm so used to seeing diverse faces and that's exactly what Syracuse embodied the minute I stepped on the quad (compared to other university visits). The track team was amazing and shared similar backgrounds, values, morals, and beliefs as me. I could tell that the Orange men held themselves with integrity; on the track, in the classrooms, and on a day-to-day basis. To top my visit and of course, my final decision to commit to Syracuse University was, of course, the fact that I happened to be here the night that our football team beat Clemson a few years back; undeniably an unforgettable night for each and every member of the University who witnessed it. The energy was at an all-time high. I knew this was the place for me.
What organizations are you involved with on-campus that you are really passionate about and why?
I'm currently involved in several organizations. First and foremost I'm an athlete, a track athlete who devotes over 20 hours weekly to team practices, team building activities, and leadership. Being an athlete is most definitely an amazing experience; yet challenging, and an immense way to build character.
I'm also currently the Head Secretary of the newfound RSO within the athletics department called DISAB; notably the "diversity and inclusion student-athlete board". This RSO holds my heart as a partial founder and pioneer. It was created in response to the systemic racism and unfair treatment that proliferates America today; notably in response to the undeniable George Floyd incident that finally made the long-ignored issue of racism go unnoticed. As head secretary I'm responsible for constructing and allocating documents such as meeting agendas, meeting notes and meeting minutes; ultimately while maintaining strict records of event absentees and attendees; ultimately ensuring that our goals, progression and current duties are on track.
Thirdly, I'm currently the chair and co-founder of the diversity training committee within DISAB. As the chair I've been in charge of creating and allocating a long-term interactive peer-lead diversity curriculum predicated on various social-psychological theories for Syracuse University athletes. Our committee has accomplished so much within the first year; having officially launched the first-ever peer- lead mass diversity training that will now be utilized each and every year here at Syracuse - and hopefully other institutions - moving forward. In relation to these duties is of course my position as DISAB representative within the athletics staff diversity and equity committee, where we report bi-weekly updates and encourage committee collaborations within the department.
Lastly, my love for people and unity among us does not end at my involvement in diversity and inclusion groups. I'm deeply involved in my department as a psychology major. Currently, I work alongside clinical psychology Ph.D. student Alan Sheinfil and Dr. Maisto as a research assistant, working on a project that studies risky sexual behavior and alcohol use among college students - a project that will ultimately provide information to create an initiative to avoid risky sexual behavior among college students. My ultimate goal is to help other individuals maximize their mental and physical health to maximize their life's potential.
How has your time at Syracuse shaped you?
My time here at Syracuse University has shaped me immensely. I always tell my peers that I can only merely recognize the girl that stepped on to campus freshman year as the various opportunities, challenges, and fun experiences have molded me into a completely different woman. Nevertheless, entering a new country as a barely 18-year-old Canadian girl having to balance culture shock, athletics, academics, and living on her own all at once was difficult but exactly what I needed to grow; and Syracuse University provided me the exact tools to do that; undeniably purpose. The athletic games, classroom experiences, practices, the nightlife, and the blood, sweat, and tears have shaped me into the woman I need to be to ultimately proliferate the world and society while undeniably bleeding orange. It's been all about perspective, Syracuse has allowed me to shift my perspective towards life; to become more open, optimistic, loving, and helping. I will always bleed orange.
What has been your favorite Syracuse experience so far?
I have a million favorite Syracuse experiences. My top experience despite having experienced so many exciting endeavors such as our win against Clemson, visiting Miami every week and sulking in the sun during track meets, and even those nights where I've engulfed in irreplaceable enlightening deep conversations with my close peers; has to be the launch of the peer lead diversity training this year by DISAB. Though to others it may seem like such a subtle endeavor, achievement or experience, to me it was about purpose. Not only purpose for me but purpose for my athletic peers and the athletics department. As athletes, we endure so much mentally as we're consistently on the go. On the day of our launch, we created a free space for EACH and EVERY individual to share who THEY are without their jerseys on. Many athletes never get the opportunity to do so. We felt like the orange family we should be for once - supporting, loving, and listening to one another with no judgment. It was life-changing. I know that if I had such an opportunity as a freshman, my experience definitely would have been different. I'm extremely proud to be a major piece of that bigger picture that will slowly but surely be painted.
What motivates you to give back to Syracuse?
What motivates me to give back to Syracuse are the unforgettable life experiences and life lessons that Syracuse University has provided me with, partnered with my unique upbringing. Having lived the life of being a student-athlete here at Syracuse, I've been able to witness first-hand the positive aspects of Syracuse but also have been able to dissect the areas and arenas that are lacking. Rather than complaining and being a bystander of the issues; which is not progressive, I realized that it was possible for me to become a part of the solution. I grew up around extremely loving and selfless individuals who prioritized giving to others over their own needs. It's important to me that the Orange men and women who step onto this campus after me have better experiences and life lessons as a result of the work that the prior generation did. That's what genuinely embodies being "one orange".
Why do you think alumni should support SU?
My experiences here at Syracuse University have made me realize not only the importance of giving but the personal fulfillment that comes with it. Sometimes we lose sight of the fact that the various events and amenities that we experience on this campus are bigger than us. They are a result of the giving of a prior prideful Orange men/women who appreciated the bigger picture and seen the value in giving back to the environment that shaped them and that will shape many others to come who follow in their footsteps. Giving to others and realizing that we are part of a greater solution is a vital part of fulfillment. There's no fulfillment in honing in on one's own success. When you give, it becomes a win-win situation, where you witness another's success and impact in society as a result of your own and receive blessings in literal double portion as a result of your grace, gratitude, and genuineness. Giving may just be a way to long-term fulfillment, as it is for me.
If you had a chance to thank a donor right now, what would you say?
You are extremely appreciated and each and every one of you does not go unnoticed. To be selfless is to be powerful. To be empathetic is to be powerful. To be giving and a leader is to be powerful. The world, more specifically Syracuse University turns as a result of your acts. To push further than the boundaries of oneself and your personal well-being, and to be open to providing the utmost experience to individuals who may not ever be able to personally thank you speaks volumes in itself. Thank you for being an amazing impact on society through your own personal achievements and endeavors and for giving permission to other - some less fortunate - brilliant men and women to do so also. We need more hearts like yours. Thank you for standing in your purpose. The world only has so many problems because we've forgotten purpose. Thank you for being a part of the solution.
Why are you proud to be a part of the Orange family?
There are a million reasons why I'm proud to be a part of the Orange family. Syracuse has made me, me and is an embodiment of all the great characteristics I have acquired thus far. There's pride in bleeding Orange. From the charismatic athletic games to the well-thought-out events and diverse and creative staff and peers there's so much to gain from this environment. Forever Orange.