Sydney Silverman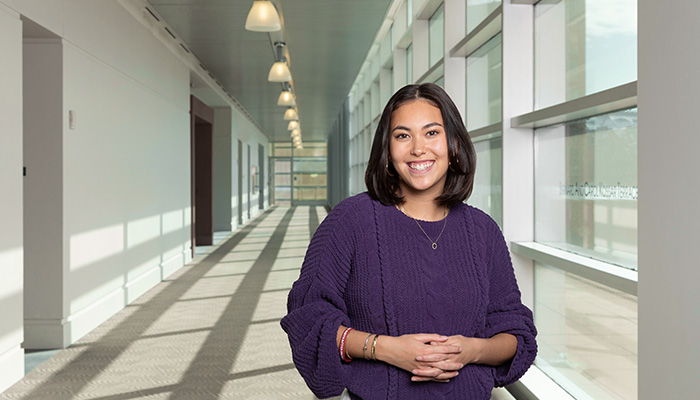 Annual Fund and General Scholarship
Hometown: Needham, MA
Major: Business Management
Class Year: 2022
Describe your Syracuse experience in a couple of words or one sentence:
It is the people that make the place.
What attracted you to Syracuse University?
I didn't think I was going to apply to SU, but my family friend who had gone here pushed for me to tour the school. Immediately while here, I loved how beautiful the campus was. I could just tell from the atmosphere and how I felt while visiting that this is where I wanted to be. After touring Syracuse, every other school I visited, I would always compare to Syracuse and how great everything about it was. The Martin J. Whitman School of Management was what intrigued me most because everything I heard about their networks, the consultations available, classes offered, and more all checked off my boxes for what I wanted in an education.
What organizations are you involved with on-campus that you're really passionate about?
In my past four years at SU, I have been involved in Greek Life, DanceWorks, and the Alumni Center and have experienced many different events, activities, and seminars that the school has offered to students. I truly am passionate about these organizations as it has allowed me to find my friends, safe spaces, and networks for the rest of my life. These all were ways for me to get more involved on campus and find new people to share experiences with.
What has been your favorite Syracuse experience so far?
While I do have multiple experiences at Syracuse that I could call my favorite I believe that one of my top favorites would be presenting for my Whitman Capstone project. I had worked for an entire semester with a group of four students who have now become some of my closest friends and prepared my whole college career for this class and project. It was unbelievably rewarding how much hard work and time we had put into it and being able to be so passionate about it.
What motivates you to give back to Syracuse?
This University has given me so many opportunities for an education that I can use for my present and future. Syracuse University is a place that has offered me ways to find myself, my future career, and a safe place where I have found the greatest of friends.
How has alumni generosity impacted your time at Syracuse?
While working at the Alumni Call Center I have experienced conversations that have allowed me to see how Syracuse has impacted its donors in addition to exactly how their gifts have benefited the University and those attending. As well through working at Whitman I have had the opportunity to network with so many great alumni. This has helped me to realize the ongoing pride that embodies alumni towards this institution.
If you had a chance to thank a donor right now, what would you say?
I would say thank you for the opportunities you are giving new students to have a great education and experience that others may not have. Your contribution truly means a lot and I hope that you have the opportunity to come back and see just how meaningful your support is to current students!