Junci Lu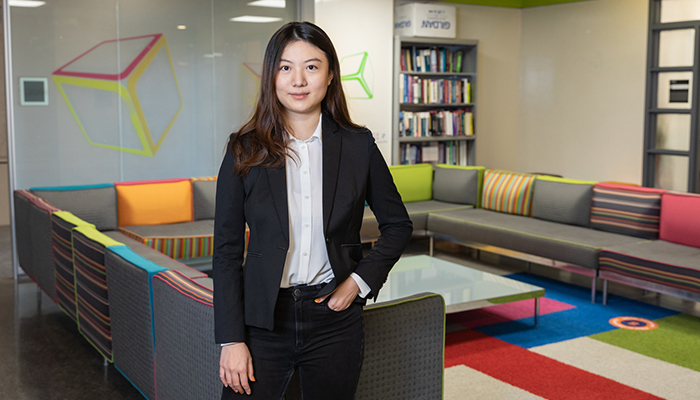 School of Information Studies (iSchool)
Describe your Syracuse experience in a couple of words or a sentence:
I enriched my knowledge and broadened my view during my college life both in study and life. Also, I met great teachers and made a lot of friends. I'm so glad that we could keep this life-long relationship. Moreover, the school is evolving these years and I feel like I'm evolving with the changes in the environment every year. For example, adjustments have been made because of the pandemic. Challenges are not terrifying as long as we try our best to solve the problem.
What attracted you to Syracuse University?
Syracuse University is located in upstate New York with so many beautiful natural views like mountains, lakes, parks, and so on. I am a person who likes to go out. I visited so many great places these years. Moreover, Syracuse has not only beautiful views but also unique historical connotations. The history makes Syracuse more fascinating. Furthermore, I love the SU people and culture. It's like a big family.
What organizations are you involved with on-campus that you are really passionate about and why?
I am involved in an organization called NEXIS. It is a student-led technology research lab in the iSchool. I am very passionate about it because it accelerates learning, provokes innovation by enabling me to explore emerging technologies and collaborate on research projects. For example, I have an interesting idea about an emerging technology and I'm interested in creating a project about that. NEXIS helps me research a lot more about the technology itself, and then get me to a point that where I can start my own project. I pursued collaborative research and discover new technologies there.
How has your time at Syracuse shaped you?
The cold winters in Syracuse have shaped me into a tough person who's not afraid of taking any challenges. Meanwhile, I received so much warmth from others, like my friends, my teachers, the school activities I've been participating in, the organizations I've been involved in, and so on. I appreciated them so much and I decided to give back to the community and send the warmth to others. I became a kind, loving person in Syracuse.
What has been your favorite Syracuse experience so far?
My favorite Syracuse experience so far is the iSchool trips. I've participated in iSchool immersion trips like Peak2Peak in Seattle and Portland, road trips in NYC, and Washington, D.C. Every time I got the opportunity to get my feet inside the top startups and technology companies in different cities, and to dive deep into the culture of the cities. I also met distinguished alumni, entrepreneurs, and professionals who live and work in these cities.
What motivates you to give back to Syracuse?
I received so much help from others like professors, mentors, friends, alumni during my time in Syracuse. For example, I received help from alumnus Rob Harris who established the Rob Harris Fund for Student Immersion Experiences at the iSchool. His gift reduces program fee expenses for domestic trips. I got to go to Peak2Peak and had a wonderful experience. I wanted to help more people as much as possible just like I received so much help from others.
Why do you think alumni should support SU?
The school helps us to achieve our dreams. We need to help the school to deliver positive values to others.
If you had a chance to thank a donor right now, what would you say?
Your contribution to support Syracuse University is a transformational gift. Thanks to your generosity, more and more Syracuse University students will now have an opportunity to receive so many more meaningful experiences and open their eyes.
Why are you proud to be a part of the Orange family?
I met so many great people here and I love the school culture. I think I became a better person through the four years of my college life. I found my community and I'd like to call it home. I feel that I belong here. I want to keep improving myself and help more people after I graduate.