Damyon Maw-Coe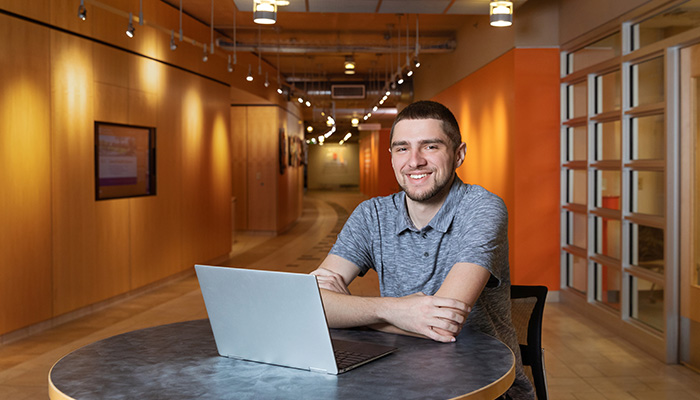 School of Information Studies (iSchool)
Hometown: Syracuse, NY
Major: Information Management & Technology
Class Year: 2023
Describe your Syracuse experience in a couple of words or one sentence:
The pandemic and other world events since starting at Syracuse have made the experience more challenging, but I feel that challenge pushes us to be better as a community.
What attracted you to Syracuse University?
Proximity and I loved the iSchool—specifically Julie Walas & Jeff Rubin were extremely influential in my decision.
What organizations are you involved with on-campus that you're really passionate about?
The Esports club, I found a lot of my friends at Syracuse through that Discord server/club. I also participated in a 3v3 basketball league with 3 others from diverse backgrounds.
What has been your favorite Syracuse experience so far?
Before I was technically a student, I saw the Gillon buzzer-beater against Duke in person and got to storm the court. As a student, I really enjoyed my time in the 3v3 basketball league. The league allowed me to be on a team with people from various countries like Italy & Russia while also being incredibly fun and competitive.
What motivates you to give back to Syracuse?
The people. Since starting at Syracuse I have met people from all over the world, who are all such great people. Just knowing that I can give back to all those great people that have impacted my life motivates me that much more.
How has alumni generosity impacted your time at Syracuse?
You can see the impact of alumni generosity essentially anywhere you look on campus—whether it be something like a bench or a building like Hinds, they all have the commonality that alumni generosity made it possible.
If you had a chance to thank a donor right now, what would you say?
Thank you for your generosity! It really does make a big impact on every student.