Dibya Patnaik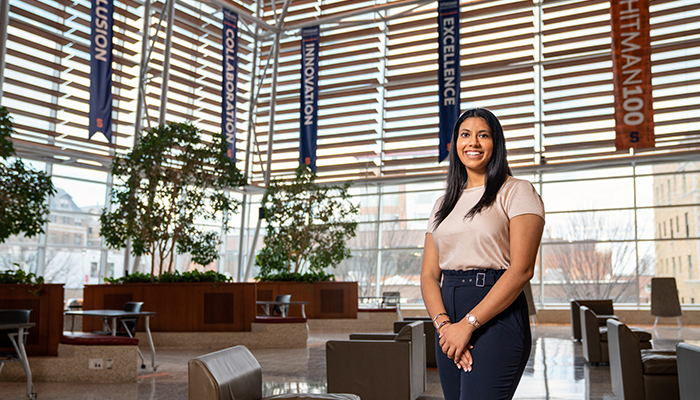 Whitman School of Management
Describe your Syracuse experience in a couple of words or a sentence:
My Syracuse experience has served as a stepping stone to realizing what I want to pursue in my life- academically, personally, and socially.
What attracted you to Syracuse University?
Being Orange- It was my favorite color before I attended Syracuse and the color took on another meaning as it reflected the values of the University. Being Orange means being a family, having a vast alumni network, and endless opportunities to help me reach my full potential.
What organizations are you involved with on-campus that you are really passionate about and why?
President of Forever Orange Student Alumni Council: This organization works to bridge the gap between students and alumni. We want to instill the pride of being Orange and encourage students to continue the tradition even after graduation.
How has your time at Syracuse shaped you?
As my undergraduate career nears the end, I've been reflecting on how this university has transformed my life. The people I've met, the classes I've taken, and the countless number of opportunities I've embraced inside and outside the classroom have prepared me for the next phase of my life. Syracuse has left a lasting impression on my life that I will be forever grateful for.
What has been your favorite Syracuse experience so far?
I think one of my favorite Syracuse memories has to be the football game against Clemson my freshmen year. The energy and excitement that exuded in the dome when we won the game is a feeling that will be ingrained in me because it was the moment I realized I chose the right school for me. I was sitting in the second row of the student section and jumped onto the field (almost breaking my leg) but truly feeling what it meant to be a part of the Orange family.
What motivates you to give back to Syracuse?
The end of college is incredibly bittersweet but I get excited thinking about the students who will follow in my footsteps. The students who will get to feel the energy in the dome on game day. The students who will discover their passions. I want those students to have the same opportunities as I did and even get the chance to create their own.
Why do you think alumni should support SU?
I think it's important for alumni to support SU so that students can continue to embrace the opportunities that they did when they were students. While my college career may be ending, I know I will still be a part of the Orange family for years to come.
If you had a chance to thank a donor right now, what would you say?
I'd say thank you for keeping the tradition of being Forever Orange alive. Their donations make the experiences and opportunities students have possible.
Why are you proud to be a part of the Orange family?
I'm proud to be part of the Orange family because it is just that: a family. Throughout the last 4 years, if I needed help or guidance, I knew there was always someone to turn to whether they were on campus or alumni. I've learned so much from others' experiences and wisdom and I hope I can do the same for students one day.