MaryKate Krege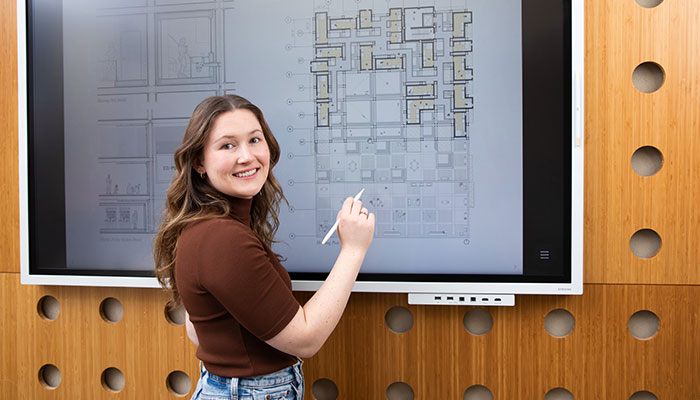 School of Architecture
Hometown: Delmar, NY
Major: Architecture
Class Year: 2022
Describe your Syracuse experience in a couple of words or one sentence:
My time at Syracuse has been very memorable, filled with many rewarding experiences and lots of opportunities to grow both personally and academically.
What attracted you to Syracuse University?
In addition to the highly ranked Architecture program, I was attracted to the community feel Syracuse provides despite being a bigger school. Upon my first visit, I saw lots of opportunities to engage in extracurricular activities beyond my major, and I couldn't help but notice the immense school spirit I felt while walking around the campus.
What organizations are you involved with on-campus that you're really passionate about?
Over my time at Syracuse, I have been involved with many organizations on campus. In an effort to explore all of the opportunities Syracuse has to offer, I made it a goal of mine to get involved both inside and outside of Slocum Hall.
I have been a member of both Creations Dance Company and First Year Players. My time with these organizations allowed me to share my love for dance and performance with the campus community, meet new friends from various schools and majors and provided me with an additional creative outlet so that I could return to my studio desk with a clear and refreshed perspective.
I also had the opportunity to serve as a peer advisor as well as a peer ambassador for the School of Architecture. It was great to welcome younger architecture students into Slocum Hall and see their excitement surrounding the program. Spending time with younger peers reminded me of my own passion for architecture and design, especially after engaging with more challenging coursework during my later years.
This past year I represented the School of Architecture as a Remembrance Scholar. This opportunity allowed me to further connect with the broader campus community in honoring all those who died in the bombing of Pan Am flight 103. My role as a Remembrance Scholar has greatly shaped my outlook on life and I know I will continue to "look back, and act forward" long after I graduate.
What has been your favorite Syracuse experience so far?
There are far too many to pick just one! A few of my favorite Syracuse experiences have been watching Syracuse beat Clemson during my freshman year, sledding down hills on South Campus after a snowstorm, and performing in Goldstein Auditorium with various dance and musical theater organizations. I also can't help but note the many hours spent in the studio bonding with my peers.
What motivates you to give back to Syracuse?
When thinking about how many of my favorite experiences at Syracuse occurred on behalf of support from alumni, I am filled with the desire to give back myself. My hope is that all the students who come after me will be presented with as many opportunities as I was.
How has alumni generosity impacted your time at Syracuse?
As a student who relies on scholarships to be able to attend Syracuse University, it is clear that alumni generosity has greatly impacted my time here. In addition to financial support, alumni contributions have allowed me to attend numerous guest lectures and workshops at the School of Architecture. It is also because of many generous alumni that I was able to receive a grant through the Syracuse's Office of Undergraduate Research and Creative Engagement to assist with funding my thesis project.
If you had a chance to thank a donor right now, what would you say?
Thank you so much for giving back to the University. Your support has left an undeniable impact by generating numerous opportunities for students like myself. Your dedicated generosity is greatly appreciated.