Ema Scheifele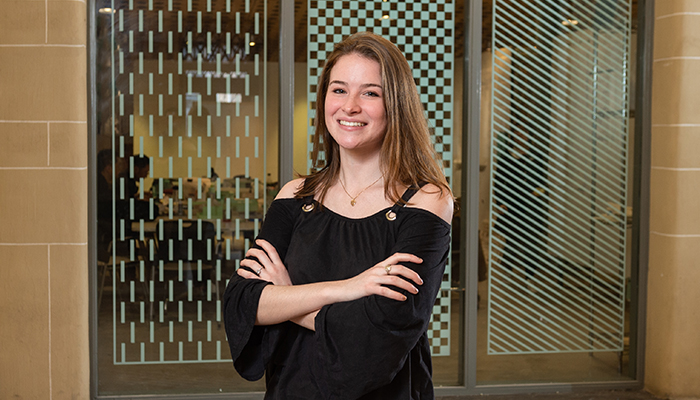 School of Architecture
Describe your Syracuse experience in a couple of words or a sentence:
Syracuse U was a great place to grow and learn both socially and academically.
What attracted you to Syracuse University?
What attracted me to SU was the architecture program, ranked 3rd in the nation at the time, and the breathtaking campus. I wasn't planning on attending until I visited on a sunny April afternoon and instantly fell in love.
How has your time at Syracuse shaped you?
I have become a much stronger individual and have really shaped into my own person. I've mastered so many important life skills like time management, professionalism, and making connections with important people on campus.
What organizations are you involved with on-campus that you are really passionate about and why?
I was involved in peer mentoring for the architecture school which I loved because I was able to help high schoolers understand more about how architecture school functions, what college is like at SU, and all of the great opportunities available to them here.
How has your time at Syracuse shaped you?
I grew up. I went into college as a naïve & immature person who didn't grasp the bigger and more important things in life. By the time I left, after a couple of very difficult life lessons, I was so much more aware of the social issues surrounding me & of all of the things that need to be addressed and changed in this world. With my education from SU I feel like I now have the tools to work hard and be a part of making those changes.
What has been your favorite Syracuse experience so far?
My favorite SU experience is all of the little moments throughout the years that made the stress, workload & financial aspect worth it. The springtime concerts at the end of the year, right when the weather is getting warm. The exhibitions in the architecture school where everyone admires each other's work. The napping in studio late at night with dozens of others to meet a deadline. The tailgates before sporting events with people you just met that day. The making friends in classes that eventually would become friends for life. The growing, the learning, the discovering new things and new people—every little thing compiled together to make a great SU experience.
What motivates you to give back to Syracuse?
Knowing that I would not have been able to attend SU if I hadn't received every single penny I was awarded in scholarships. My finances have always been tight at home and when I realized SU was the school I wanted to attend, it actually made me sad, because I didn't think I could afford it. But with financial aid and scholarships, it was possible and that will forever be a huge factor in this life-changing college experience at SU Architecture.
Why do you think alumni should support SU?
Support from alumni makes a big difference both financially but also in terms of SU's reputation. Almost anyone I meet over on the east coast has a direct link to SU, whether they themselves attended or a family member/friend. Having this network of alumni supporting the school so they can continue to give young students opportunities is very important.
If you had a chance to thank a donor right now, what would you say?
Thank you for helping me and my peers achieve our goals, thank you for giving us an opportunity, and thank you for making our college experience as effective as possible.
Why are you proud to be a part of the Orange family?
I am proud of the hard work and dedication both my classmates and myself put in for the 4/5 years at SU to get us to where we are today. It is a link between all Orange Alumni that will last for years to come.