Ronald Ditchek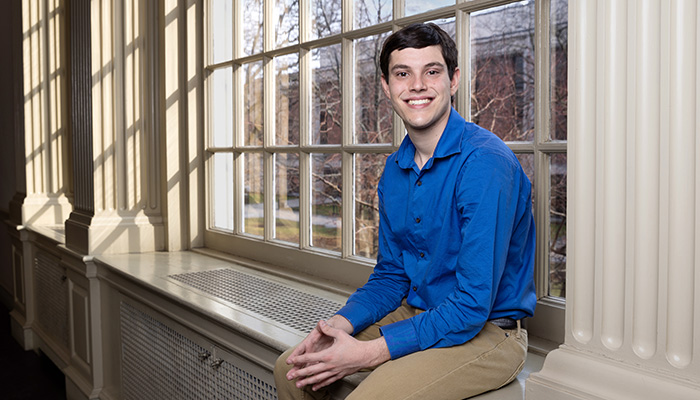 Hometown: Brooklyn, NY
Major: Music Education
Class Year: 2023
Describe your Syracuse experience in a couple of words or one sentence:
Too good to be true.
What attracted you to Syracuse University?
School spirit attracted me to attend Syracuse University. When I was in the process of choosing schools, I wanted to gain an education from a school that everyone was happy to be a part of. Syracuse University consists of a cheerful population that admires traditions, opportunities the school provides, and the community around them. When I toured the school and talked with admissions counselors, I knew Syracuse University was going to exceed my expectations of school spirit. With my choice of attending Syracuse University, I knew I was going to consistently be energetic and enthusiastic about the school since we have so much to offer in terms of community and showcasing why we went Orange. School spirit and community are a tremendously important combination since I knew I was going to be a part of the Orange family forever, which attracted me to attend Syracuse University.
What organizations are you involved with on-campus that you're really passionate about?
I am involved with many organizations on campus and it is tremendously hard to choose from! The organizations I am a part of taught me about myself and what I can bring to the community and those around me. Organizations on campus provided me with people that genuinely love and care for me. My involvements have truly made me a better student, person, educator, etc., and I am looking forward to passing down that knowledge to my future students.
One organization I am passionate about is Otto Tunes. Otto Tunes is a tenor-bass acapella group that performs for the Syracuse University community at various events and venues, in the Syracuse community, and beyond. Otto Tunes has given me my first family on-campus. The members of this group are people I can turn to for any given scenario from grabbing meals to having conversations about wisdom I would not have thought about on my own. Otto Tunes made me such a better person, student, and educator.
Another organization I am passionate about is OttoTHON. I am the first-year recruitment co-chair who assists in the facilitation of the OttoTHON Leadership Program, which is designed to acclimate first-year students into the OttoTHON community and the Syracuse University community. OttoTHON allowed me to make a positive difference on kids who may become my future students when I become a future educator. OttoTHON gave me the opportunity to raise awareness of pediatric illness, in which I am passionate about fighting for the futures of kids who are affected by pediatric illness. Additionally, OttoTHON provided me the opportunity to emulate the same positive impact that my family members who are in the medical field have on others.
What has been your favorite Syracuse experience so far?
My favorite Syracuse experience so far involves being on the Orientation Leader team for Syracuse Welcome 2021. Being an Orientation Leader, I was able to provide students the insight that they are a part of our family. This came from fostering meaningful connections with first-year students and families, facilitating small group sessions consisting of first-year students, interacting with incoming students during Syracuse Welcome signature events, and many other wonderful opportunities. During Syracuse Welcome 2021, I was able to succeed in my mission of providing an energetic and enthusiastic environment for first-year students and families that instilled the same high spirit I had when I was an incoming student. Additionally, as an Orientation Leader, I was able to prove how Syracuse University consists of a welcoming and inclusive student body by interacting with as many first-year students as possible throughout Syracuse Welcome 2021.
What motivates you to give back to Syracuse?
The people of Syracuse, whether it be students, faculty, or staff, motivate me to give back to Syracuse. The friendships I have made at Syracuse University are those that will last forever. The friends I made at Syracuse are the reason why I continue my education at Syracuse. The faculty and staff at Syracuse, inside and outside the classroom, have been tremendous role models for me in terms of my education and my progress as a student, person, and educator. The faculty and staff have been there for me in many ways possible from a letter of recommendation to provide me with opportunities that I know I would not have had if I attended another school. Additionally, the faculty and staff are truly caring for all students in terms of being support systems for their future and in general.
How has alumni generosity impacted your time at Syracuse?
Alumni generosity impacted my time at Syracuse in many ways. Generous donations from alumni have provided me access to numerous resources that are not available at any other school. Not only do alumni provide donations that will make our campus better, but alumni also help sustain our traditions (i.e. Holidays at Hendricks, Orange Central, etc.). These traditions and resources have been significant for me as a student since they expanded my love for Syracuse, as well as my passion for inspiring others to attend Syracuse. Generosity coming from alumni taught me to be thankful for the massive Orange family I am a part of. Additionally, alumni generosity taught me how I am able to step outside my comfort zone and interact with alumni who will provide me support as a student, person, and educator during and after my time at Syracuse University.
If you had a chance to thank a donor right now, what would you say?
Thank you for providing ongoing support and care to a place that I call home. You have tremendously impacted my time at Syracuse and will continue to do so for generations to come.