Brittnee Alexis Johnson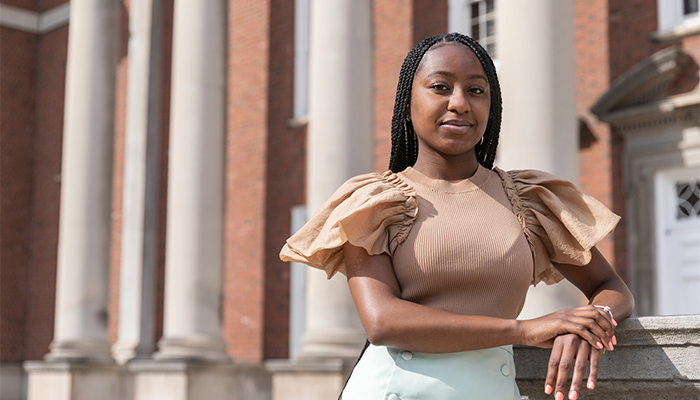 Describe your Syracuse experience in a couple of words or a sentence:
Life-changing. The opportunities that I've received have helped me find my purpose and my voice to make change beyond these gates.
What attracted you to Syracuse University?
There are so many diverse groups on campus who all contribute to everyday campus life. There are ways for every student to get involved! I was especially attracted to the Maxwell School and all it had to offer.
What organizations are you involved with on-campus that you are really passionate about and why?
I currently serve as the Business Manager/Secretary of The Black Celestial Choral Ensemble (BCCE). Founded in 1977, the history and culture that this gospel choir brings to campus are unlike any other organization on campus. We are able to inspire the student body through music and it is so rewarding to be a part of the Hendricks Chapel family. I also serve as Chair of Community Engagement for the Student Association. I am passionate about serving as a liaison for students on campus and our local community while making sure that students are always informed of how to be most impactful.
How has your time at Syracuse shaped you?
As a transfer student, Syracuse has shaped me into someone who is resilient, determined, and passionate about my education and using the resources I've been given to impact others. I know that once I leave SU, I'll be ready for whatever is ahead of me.
What has been your favorite Syracuse experience so far?
My favorite Syracuse experience so far has been writing my Distinction Thesis. I've been given the opportunity to use my education to write an original paper on something I am passionate about. I also enjoy working in the Office of Diversity and Inclusion as a Student Advisor!
What motivates you to give back to Syracuse?
The resources, mentorship, and guidance I've been gifted have shaped my professional career and have given me the tools to succeed, no matter what path I choose to take. Giving back to Syracuse means that another student like me will have the same outcome as well.
Why do you think alumni should support SU?
There is no institution quite like Syracuse and this is an opportunity to possibly help current and future students receive the best education and overall collegiate experience possible.
If you had a chance to thank a donor right now, what would you say?
Thank you for your leadership and commitment to the betterment of this institution!
Why are you proud to be a part of the Orange family?
I am proud to be a part of the Orange family because the network of current students and alumni all over the world is truly unlike any other.