Lisa Murray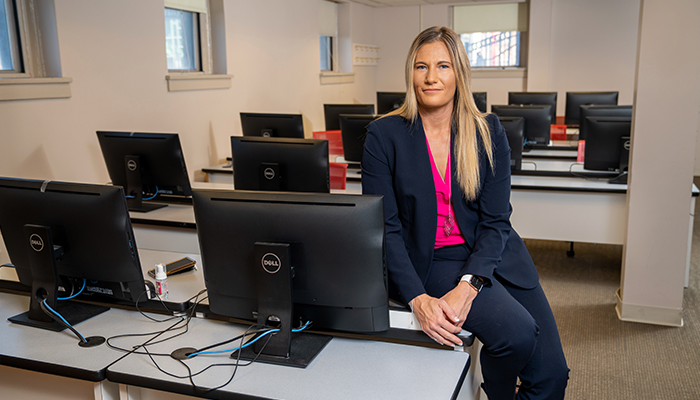 Describe your Syracuse experience in a couple of words or a sentence:
Family, empowering, leadership and mentorship.
What attracted you to Syracuse University?
Growing up in Western New York I always saw a lot of people proudly supporting Syracuse University. So, when the opportunity presented itself for me to potentially come work for SU I jumped at the chance to be a part of the Orange family.
As a veteran and staff member at the Institute for Veterans and Military Families (IVMF). I was so proud of the University. It meant a lot to me to know that the University was listed #1 best place for veterans.
Then I was afforded the opportunity to attend classes at SU through University College. I was so nervous, I had been in college before and it can be hard for adult learners to assimilate - not here. I was immediately accepted by my peers and I was able to thrive.
What organizations are you involved with on-campus that you are really passionate about and why?
I am very passionate about University College - I cannot say enough about UC. If not for the diligent work of my advisor I am not sure if I would be as far as I am. I felt like I had a partner alongside me every semester.
I am a veteran and a place like the National Veterans Resource Center (NVRC), the newest building on the SU campus would have made my transition go a lot smoother. The IVMF, Student Veterans Organization (SVO), and the Office of Veterans and Military Veteran Affairs are all available at the NVRC to support military-connected families no matter whether they have just left the service or been out for some time.
Special events as a student veteran and staff members like the Stars and Stripes tailgate which brings soldiers and their families to Syracuse making them a part of our military-connected Orange family on campus.
The SU Veterans Law Clinic is a fantastic resource for veteran families in need of legal services.
How has your time at Syracuse shaped you?
The skills I have acquired from my time at Syracuse have made me the confident leader I am today. I know how to be a team player and I am prepared to take what I have learned and use these skills in my professional and personal life. I have also learned to be more patient and more resilient.
I also know I am not alone. I have a deep bench of colleagues that are like family to me now. I have also learned the importance of relationships and how to foster those relationships.
What has been your favorite Syracuse experience so far?
Nothing compares to the positive experience I had waiting in line to try the new food that would be offered in the canteen at the NVRC before the opening of the building. As I waited in line I looked around and saw SU staff members, ROTC cadets, IVMF, OVMA employees, and student veterans all together, mingling and having conversations. It was such a collaborative environment all due to a dining experience. To be there and see all the connections being made, made me really proud. What an impact they were making on each other. I feel that SU strives to create these types of moments whenever possible, so people can interact and learn from each other. There does not always need to be a professor lecturing students.
What motivates you to give back to Syracuse?
I have been connected to Syracuse University for seven years now. I see the constant progress being made year after year to ensure students receive a first-class education. I have been one of those students.
When I think about this question I think about the old adage if you give someone a fish they will eat today, but if you teach them how to fish they will eat for a lifetime. Giving back to the University is a sure-fire way to know that you will make a positive impact and change someone. Even though I am out of the military, the mission may have changed, but my service to others will never stop. I know I am making a positive impact and that gives me purpose again.
Why do you think alumni should support SU?
I think as soon-to-be future alumni I can say that it will be an honor to me to be able to be called alumni.
More so now than ever alumni should support SU. The University, like other institutions, has had to make drastic changes. Those changes have also made SU stand out amongst other universities across the country during the height of the pandemic. The University was able to bring students back and keep them back in school. To me that is leadership and I am proud to support it!
Alumni can help ensure students continue to receive quality education no matter what the challenge may be.
In order for SU to continue to offer this gold standard, we need the support of the alumni. You have walked these same streets, sat in the same classrooms, and had the same experiences with professors that current and future students will have.
I am also very proud to see that the University looked within to its student leaders to support the needs of the University during the height of the pandemic.
We are all a part of the Orange family and family is there for you through the good times and the bad. Again my experience was so great, I am proud to give back but particularly now. Especially as a veteran. To give back to a University that has a specific and special focus on veterans distinguishes Syracuse University from its peers.
If you had a chance to thank a donor right now, what would you say?
I would of course say thank you, but I would also say that you can rest assured that your commitment and support to this University has given me the best student experience I could have possibly had and I will not squander this gift. I will take every opportunity to pay it forward and help others. 
Why are you proud to be a part of the Orange family?
Before joining the service I did not have much family. Being in the service gave me the family I always wanted but never had. When I left the military I felt like I lost my sense of belonging and purpose. I found where I belong and my purpose again when I came to SU. I am proud to be a part of the Orange family I know I will always have this family.