Brian Bauer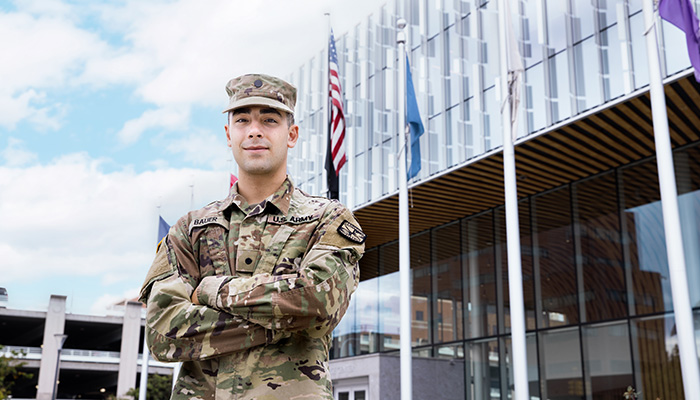 Office of Veteran and Military Affairs
Hometown: Ocean Township, NJ
Major: International Relations
Class Year: 2022
Describe your Syracuse experience in a couple of words or one sentence:
My Syracuse experience was one of a kind.
What attracted you to Syracuse University?
I was attracted to Syracuse University for its great academic reputation, sports teams, and ROTC program which is the longest-running ROTC program in the country. The amount of support that Syracuse provides military-connected students and veterans is truly incredible.
What organizations are you involved with on-campus that you're really passionate about?
I am extremely involved with Army ROTC on campus as the next step after my time at Syracuse University will be an Officer in the US Army. In ROTC, I am able to make a positive impact on campus and the surrounding community through volunteer opportunities such as providing support for Afghan Refugees. I am also extremely involved as the Co-President of the Forever Orange Student Alumni Council as another way to give back through philanthropy and getting students involved with the Orange Community.
What has been your favorite Syracuse experience so far?
My favorite Syracuse experience so far was studying abroad in Hong Kong at the Syracuse center there. I was able to test my language skills and immerse myself in a foreign culture all while taking Syracuse classes.
What motivates you to give back to Syracuse?
Being a part of the Orange Family and supporting students achieve their goals. There are so many wonderful programs on campus such as the Hendricks Chapel Emergency fund to help students in times of need and I try to find any way I can help those programs.
How has alumni generosity impacted your time at Syracuse?
If alumni did not give back to Syracuse, I would not have been afforded all of the great opportunities I had been given. I was able to have conversations with many alumni who have guided me to where I am today through amazing mentorship. Their generosity of time and money do not go unnoticed and push me to be the best I can be so that I can help the next generation of students after I graduate.
If you had a chance to thank a donor right now, what would you say?
Thank you so much for helping students like me achieve our goals and giving us the opportunities provided to us. It is so amazing to be a part of the Orange Family.