Pei Ren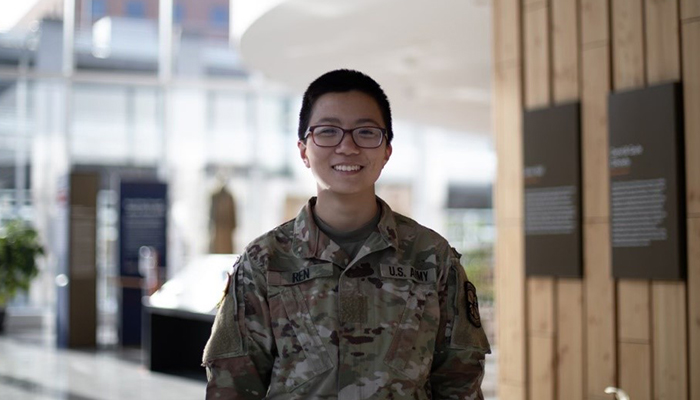 Office of Veteran and Military Affairs
(OVMA)
Hometown: Macon, Georgia
Major/Minor: Mechanical Engineering
Class Year: 2023
Military Status: Veteran and Cadet
Military Bio: I enlisted in 2015 and served as a signals intelligence analyst from 2016-2019 as part of 116th MI BDE at Ft. Gordon, GA. While there, I also served as my company's representative for Better Opportunities for Single Soldiers (BOSS). This included supporting the morale and welfare of Soldiers living on post and community service off post.
Describe your Syracuse experience in a couple of words or one sentence:
community, support, and opportunity for growth
What attracted you to Syracuse University?
Continuing service. I wanted to challenge myself with more responsibility and leadership, which I pursued through ROTC. I chose Syracuse for its unparalleled support of military-connected students.
What organizations are you involved with that you are really passionate about and why?
Syracuse University attracts a caliber of cadre and cadets that makes our ROTC the best in the Northeast. It is amazing to see how much us cadets have developed as leaders since freshman year. Most ROTC programs have little funding, but OVMA enables Syracuse ROTC opportunities that enhance our training. These opportunities include team-building trips and competitions.
What was your favorite Syracuse experience so far?
Army ROTC often handles the unfurling of the large flag during the singing of the national anthem at football and basketball games. One game last semester, we got to stand with student veterans—past and future service members came together for the event.
What motivates you to give back to Syracuse?
Syracuse University is characterized by service, with over a century of advocating for military-connected students. Paying it forward is part of being an SU military-connected student. Through ROTC, I and many other cadets seek out opportunities that support local and global communities. For example, we volunteer with We Rise Above the Streets in supporting the physical and mental welfare of the Syracuse homeless. We also led the initiative for a donation drive for Afghan refugees that will hopefully run again next semester.
Alumni support is incredibly important to current students. How has alumni generosity impacted your time at Syracuse?
Through OVMA, the university and alumni community let cadets like me take part in challenges such as the 26.2 mile Bataan Memorial Death March in New Mexico and the Army Ten Miler in Washington, DC. OVMA is also funding and setting up a new gym that focuses on the Army Combat Fitness Test. It is located on South Campus with over $30,000 in new equipment. Alumni support allows us opportunities to challenge ourselves and to excel as a program that produces exemplary leaders.
If you had a chance to thank a donor right now, what would you say?
Thank you being a part of the Syracuse tradition of supporting those who have served and those who will serve. I appreciate that I have these opportunities at Syracuse, and they make my experience here really fun and rewarding.