Pamela Flores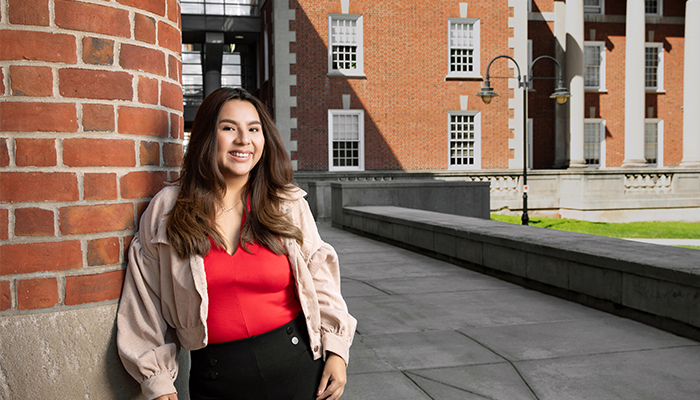 Renée Crown University Honors Program
Describe your Syracuse experience in a couple of words or a sentence:
Coming to Syracuse University has expanded my horizons and how I perceive the world. Being surrounded by so many bright minds has made me realize there is no barrier to what you can achieve if you set your mind to it. It has made me grow as a person and realize that with perseverance everything can be achievable. I came to Syracuse University to learn and will graduate with so much more than that.
What attracted you to Syracuse University?
The community and the beautiful campus. Before I applied, I had the chance to visit SU. I was astonished by the beauty of the campus, close community, and sense of alma mater. I immediately knew that Syracuse would be my next home.
What organizations are you involved with on-campus that you are really passionate about and why?
Throughout my years in SU I have been involved in different organizations such as La Lucha, FADS, and the Real Estate Club. I am also part of the Honors Ambassadors, Class Act Ambassadors and belong to the honor societies of Phi Eta Sigma and Sigma Iota Rho.
How has your time at Syracuse shaped you?
My time at SU has made me stronger, bolder, and more confident of my strengths and what I can achieve in the future. It has made me constantly challenge myself and overcome obstacles. Today, I feel that I have the capacity to achieve things that before seemed impossible.
What has been your favorite Syracuse experience so far?
My favorite experience at SU has been traveling with my Honors class to attend the COP3 Minamata Convention in Switzerland. This experience helped me to know better my peers and professor and to experience in first person a UN Convention.
What motivates you to give back to Syracuse?
I believe I deserve to give back to my home. The place that has seen me grow and overcome obstacles, the home that has taken care of me for the past years, and the home that will always receive me whenever I come back.
Why do you think alumni should support SU?
SU will always be home. It is the place where you have created so many memories and met people from all around the world. It is the home that has seen you fall and come back up. Giving back to SU is a way of saying "thank you" to our home away from home.
If you had a chance to thank a donor right now, what would you say?
Thank you for contributing to building our future. We, students, appreciate your donation as it is transformed into different opportunities for growth. Thank you for making our learning experience a memorable one.
Why are you proud to be a part of the Orange family?
I am proud to be part of the Orange family because I can feel the love we have for our alma mater. I see how excited we get when we win a game or how proud we get when we see alumni succeed. We are a family.