Fantasia Sherman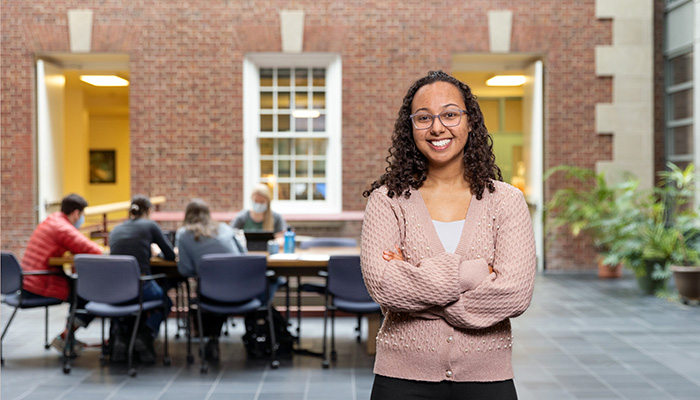 Renée Crown University Honors Program
Hometown: Douglassville, PA
Major: Policy Studies & CCE
Class Year: 2022
Describe your Syracuse experience in a couple of words or one sentence:
My experience at Syracuse University has been nothing short of rewarding! These four years have been some of the best years of my life and I am so grateful for the opportunity to spend some of my most transformative years on this campus.
What attracted you to Syracuse University?
I was attracted to Syracuse University because the school and campus itself had so much to offer. There is a sense of pride in every aspect- from academics to athletics and social life. Syracuse was everything I was looking for and more.
What organizations are you involved with on-campus that you're really passionate about?
One of my favorite things I am involved in on campus is the Forever Orange Student Alumni Council. I love FOSAC not only because we have so much fun planning on-campus events such as Forever Orange Week and Orange Central, but also because it is so rewarding to connect Syracuse alumni with current students and bridge those gaps. It is so cool to see people from different walks of life unite over one thing we all have in common, being orange!
What has been your favorite Syracuse experience so far?
I have loved feeling a part of the Syracuse community.
What motivates you to give back to Syracuse?
I am motivated to give back to Syracuse when I think about all of the students who will come after me! I think it is important for students to give back in recognition of all that the university has provided us, in hopes that our giving back can enable future students like ourselves to have the same experience or even a better experience.
How has alumni generosity impacted your time at Syracuse?
Alumni generosity has impacted my time at Syracuse by providing me and other students with access to resources, scholarships, and amenities that make Syracuse University one of a kind. I think Orange alums are special because they are dedicated to giving back however they can, and it's not always financially. They also give back to us with their time, talents, opportunities, and connections.
If you had a chance to thank a donor right now, what would you say?
As my senior year comes to a close, thank you for your constant and deep care and commitment to the place that has been home for four years. This campus and community would not be what it is without your generosity!