Kim (Ancel) '86 and Mark Greenhall '86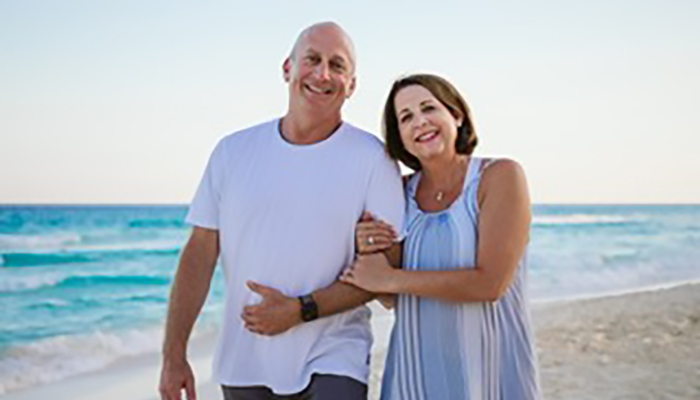 The Hill Society
Member Profiles
Kim (Ancel) '86 and
Mark Greenhall '86
What was your focus at Syracuse University and what are you doing now?
Kim: I was in VPA studying Advertising Design. My coursework taught me how to be a world-class marketer. I still use those skills today as I am a fundraiser in the nonprofit sector. I am currently with the Pacific Symphony in Orange County, CA. I met Mark at Syracuse. In October, we celebrated our 35th anniversary. We have four children, two are married and our first grandchild is on the way.
Mark: My focus at Syracuse University was Retail Marketing. I am the founder and CEO of a Food gifting Product Development Company called Ten Acre Gifts. We develop, design, and deliver branded food gifts for the global retail market.
What is your favorite SU memory?
Kim: There are so many favorite memories…but these are what make me smile still: My sorority AEPhi, (I had my own private room on the third floor.) Varsity Pizza, Zorbas, basketball games in the student section, all of my art and design classes, Wednesday Night-Oldies Night at the Jabberwocky, (I could really belt out a fabulous Bye Bye Miss American Pie,) and of course, meeting Mark.
Mark: My favorite memories at Syracuse University were spending time at my fraternity house, Pi Kappa Alpha. I created long-lasting friendships and an amazing network of friends. I also met my wife Kimberly in my sophomore year.
Why is it important to give back to Syracuse University?
Kim: I give back to ensure future students can have the same amazing experience and education I had.
Mark: Syracuse University provides an amazing opportunity for students to mature as young adults across a myriad of colleges and outside organizations.
What does being a member of The Hill Society (leadership giving) mean to you?
Kim: The most important part of giving is really about the impact my donation can have on a student who couldn't be there without my help. I hope this inspires others to change a student's life too.
Mark: Being a member of The Hill Society provides me with a bridge back to the University that I love and allows me to provide an opportunity for an underserved student who now can enjoy the same opportunity.
In your opinion, what is the most important work that Syracuse University does?
Kim: Syracuse provides a safe space for dreaming, for trying new things, for failure, and for shaping students to make our world better for everyone.
Mark: Syracuse University provides an amazing opportunity for students to mature as young adults while gaining a top-notch education across a myriad of disciplines.
What do you hope to accomplish at Syracuse University through your philanthropy?
Kim: I hope someone's life changed for the better because I made my gift.
Mark: I hope I can make a small impact in changing someone's life.
---
The Hill Society | Member Profile 
In each issue of The Hill Society e-newsletter, we will feature a Hill Society member. If you are interested in being profiled, contact thehillsociety@syr.edu.