Millard Hall, Jr G'88 and Lynette G. Hall '89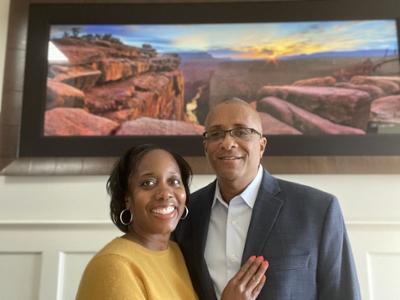 The Hill Society
Member Profile
Millard Hall, Jr. G'88
Senior Operations Executive and Transformational Leader
Lynette G.  Hall '89
Nurse Practitioner, Permanente Medicine (TSPMG)
What was your focus at Syracuse University and what are you doing now?
Millard: From June 1987- August 1988, I attended Syracuse University as a student in the competitive Army Comptrollership Program. This competitive Department of the Army funded Master's program included a 60 credit hour curriculum compressed into a continuous 14 month academic calendar. Upon completion of the program's academic requirements I was awarded a Master of Business Administration (MBA) degree.
I am a Senior Operations Executive, who recently retired after a successful 20 year military career and almost 21 years in corporate America in roles of increasing responsibility in logistics, operations and marketing services.
Lynette:  Syracuse University provided the foundation for my nursing career. I received a Bachelor of Science degree in Nursing from Syracuse University in 1989 and graduated as a Registered Nurse.
After leaving Syracuse, I completed a master's degree in Nursing at Emory University as a family Nurse Practitioner in 1992. I was also part of the inaugural class at Georgia State University in 2015 where I received my Doctorate of Nursing Practice. I am a family Nurse Practitioner working at a multidisciplinary practice in Atlanta, Georgia and an adjunct instructor at Emory University.  
What is your favorite SU memory?
Millard: My favorite memories include engaging and spending time with my Army Comptrollership Program classmates, enjoying life on campus and supporting the Syracuse University football and basketball programs.
Lynette: My fondest memory at Syracuse University was my freshman year in Lawrinson dorm and the lifelong friendships that were formed during that time. Lawrinson was truly a home away from home.
Why is it important to you to give back to Syracuse University?
Millard: The opportunity to give back to Syracuse University is very important because my Syracuse University education and experiences continue to favorably impact my life, professional development and career growth during the past 30+ years. Giving back to Syracuse also provides me with an opportunity to pay it forward as I support the university's ongoing focus on student education as well as faculty and facility development.
Lynette: I was blessed to attend Syracuse University as part of the Higher Educational Opportunity Program (HEOP). Without this program, my opportunity to attend and complete a post-secondary education would not have been possible. I am forever grateful to Syracuse and as a result, I am committed to assisting the next generation of scholars at Syracuse University by giving back.
What does being a member of The Hill Society mean to you?
Millard: It is an honor to be a member of The Hill Society and financially support ongoing student, faculty, facility and education funding priorities and initiatives at Syracuse University. My ongoing support for The Hill Society provides me with an opportunity to financially support the education and development of future leaders at Syracuse University.
Lynette: It is an honor to be part of The Hill Society and my hope is to encourage my peers to join me in this endeavor to support Syracuse University financially.
---
The Hill Society | Member Profile 
In each issue of The Hill Society e-newsletter, we will feature a Hill Society member. If you are interested in being profiled, contact thehillsociety@syr.edu.