Subhash G. Verghese '01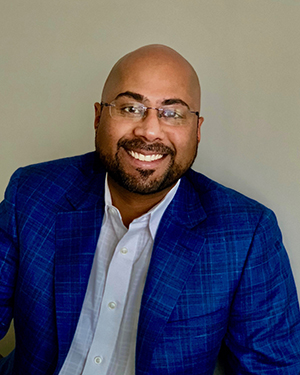 The Hill Society
Member Profile
Executive Director, HR Technology and Information Strategy
Comcast
What was your focus at Syracuse University and what are you doing now?
I was a graduate student at the School of Information Studies (now the iSchool), doing my Master's in Information Resources Management. At the same time I was a graduate assistant at Computing and Media Services (CMS), where we provided computing support for staff and students. While I did electronics and communications engineering for my undergrad, I always liked information and the technology supporting it, and just as much, the human aspects of information—and the IRM program offered all those aspects of it. I had some of the most wonderful, supportive professors at such an exciting time, when e-commerce was just taking off. At CMS I was incredibly fortunate to work with an amazingly supportive team and learned so much on the job about customer experience, practical technology and business processes with some truly exceptional individuals—even until today, some of the best I've worked with.
Today, I'm a technology strategist—I specialize in transforming organizations using technology and process excellence, and I still get to focus on the human experience. Right now, I work at a media and communications company helping transform the employee experience of my 100,000 teammates through technology.
What is your favorite SU memory?
Of the many wonderful memories of my time at SU, my favorite one is actually from before I joined! While visiting a friend who went there and deciding on which grad school to go to, I remember looking out from the lounge on the second floor of Schine onto the campus and with a sense of excitement, feeling right then that this was where I wanted to go.
Why is it important to you to give back to Syracuse University?
SU supported me so much while I was there—from the caring co-workers at Food Services who ensured I didn't go hungry, to our professors who were critical to so much of my knowledge and career now, to my colleagues and managers at CMS who treated me like family. Just as important was the financial support I got as a graduate assistant, without which I likely would not have been able to finish grad school and probably wouldn't be where I am now. I want to help pass along those blessings in some small way. There is so much need to make education accessible and to provide facilities that enrich the experience.
What does being a member of The Hill Society mean to you?
It's an honor to be connected with a group of people that cares about SU and wants to give back in many ways, and it's great to hear about how giving back impacts current students and programs. The awareness keeps us engaged and provides us with information to keep the SU story going!
---
The Hill Society | Member Profile 
In each issue of The Hill Society e-newsletter, we will feature a Hill Society member. If you are interested in being profiled, contact thehillsociety@syr.edu.