David and Alicia Bendana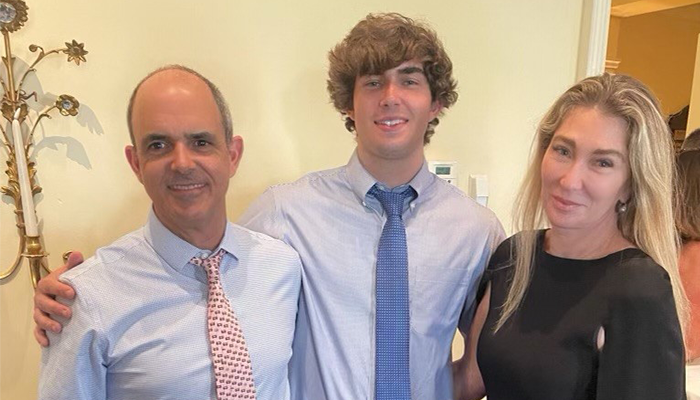 The Hill Society
Member Profile
What is your student's focus at Syracuse University?
In high school, Finn had no idea where he wanted to go to college or what to study.  He decided to enroll in a college summer program to get an idea of what the college experience was like.  Because he has always loved sports, he chose a two week program at the Syracuse Summer College Sport Management.  Finn had such a positive experience there that, at the end of the two weeks, he announced that he had picked his university and his major and applied early decision to Syracuse University's Falk College. Finn is now a rising Senior majoring in Sport Management with a minor in Venue Management.  He has had great academic and practical experiences at Syracuse participating in Falk's New England Sports Immersion Program, interning for Tulane University's athletics department, and this summer, interning at the Sports Book at Harrah's Casino. During the upcoming fall semester, for his Senior Capstone project, Finn will be working in New Orleans for the Local Organizing Committee for the 2022 NCAA Men's Final Four (we're counting on him getting us tickets when 'Cuse makes it to the Final Four).  
What is your family's favorite SU memory?
Although Finn has been at Syracuse for three years, the pandemic has effectively limited our visiting time there to a year and a half.  Nonetheless, we have enjoyed our experience serving as Co-Chairs of the Parents Council which has enabled us to meet so many other engaged Syracuse parents and dedicated faculty and staff who support the student experience.  Our favorite memories, however, have been simply sharing Finn's amazing experiences and getting to know friends, who he will likely have for the rest of his life.
Why is it important to you to give to Syracuse University?
Our time on the Parents Council has made it clear why giving to Syracuse is so important.  In normal times, you can understand that giving enhances the experiences of students that cannot be provided by tuition alone.  In these COVID times, we have seen how Syracuse has risen to overcome immense challenges to help its students, parents, alumni, faculty and staff, and the entire Syracuse, NY community.  It has been our honor to be able to give to Syracuse.
What does being a member of The Hill Society (leadership giving) mean to you?
It is important to us to be active, engaged and contributing members in any community we are involved with, whether that be our neighborhood, our city or our children's schools.  Schools do important work and depend on donations to enhance the academic experience for all who attend.  We consider it a privilege to be able to help support that mission and we hope that our giving serves as a model that inspires our children to do the same when they are older.
---
The Hill Society | Member Profile 
In each issue of The Hill Society e-newsletter, we will feature a Hill Society member. If you are interested in being profiled, contact thehillsociety@syr.edu.