Lauren (Selling) '89 and Rob Unger '90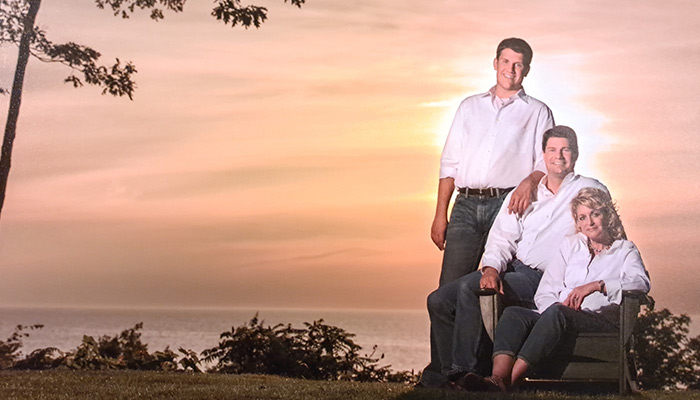 The Hill Society
Member Profile
Lauren (Selling) '89 and Rob Unger '90
What was your focus at Syracuse University and what are you doing now?
Lauren was a marketing/TRF major and Rob was in advertising at Newhouse. After graduating from Syracuse University, we moved to NYC to pursue our advertising careers for about 10 years. After Lauren's Multiple Sclerosis diagnosis, we had our only son, Adam, so we decided to transfer out of the big city to raise him in Erie, PA (where we now own/run our family's fourth-generation manufacturing plant). Needless to say, we absolutely love our life in Erie, where Adam excelled and followed in our footsteps to attend Newhouse as a BDJ major. Adam's first job out of SU was as a sports reporter/MMJ at WKBW in Buffalo. His sports endeavors have taken him to the CBS/Fox affiliates in Indianapolis.
What is your favorite SU memory?
Actually meeting each other! Lauren had already graduated from SU and went back to visit campus just to catch up, and that's when we met! We visit campus regularly to meet up with our friends from the past, bring new people to experience/appreciate our campus and reminisce about what brought us together.
Why is it important to give back to Syracuse University?
Syracuse University has given us so much over the years including programs at Lubin House in NYC, game viewing parties across the country, and alumni programs (including new student send-off dinners). It only makes sense to give back to the institution that prepared us for real life and how to balance working hard and playing hard.
What does being a member of The Hill Society (leadership giving) mean to you?
It means we have made Syracuse University more accessible for those who need assistance in making their dreams of bleeding ORANGE come true!
---
The Hill Society | Member Profile 
In each issue of The Hill Society e-newsletter, we will feature a Hill Society member. If you are interested in being profiled, contact thehillsociety@syr.edu.