Jennie May '17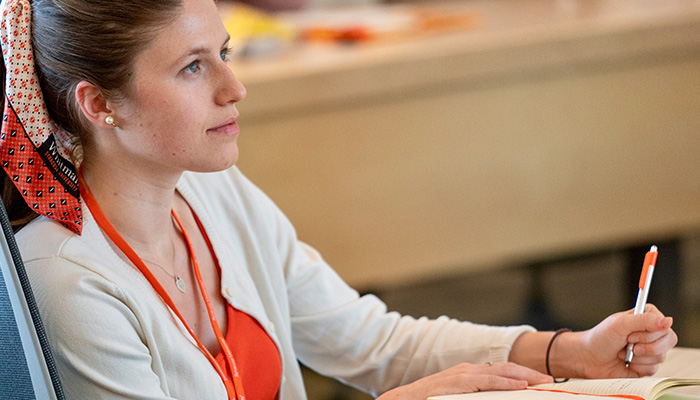 The Hill Society
Member Profile
F135 Alternate Sourcing Manager
Pratt & Whitney
What was your focus at Syracuse University and what are you doing now?
In 2017, I graduated from Newhouse and Whitman, majoring in Public Relations, Marketing and Supply Chain Management. After years with dreams in the communication sectors, I realized that my passion is for operations and logistics. This led me to a Materials Management Development Program at Pratt & Whitney, where I learned how a jet engine runs and the complexity of the aerospace industry. I currently work with Pratt & Whitney's F135 propulsion system where I am able to strategize and execute projects across our functional departments from Operations, Global Supply Chain, Legal, and Finance.
What is your favorite SU memory?
Syracuse brings together so many people, some of my favorite memories at SU stem around how the world is really connected by Orange. My first story is from my time in University 100, the campus tour guides, and was able to give a tour to a mother/daughter duo that coincidently came from my same state: Florida, my same city: Jacksonville, and was a junior from my old high school! She ultimately applied, was accepted, and graduated from Newhouse in 2019.
The second story happened when I was backpacking abroad in Prague, Czech Republic. After waking up early to see the sunrise on the Charles Bridge, before all the other tourists flocked to it, I saw a gentleman wearing an orange shirt. It looked so close to the SU color that I blurted out, "Go Orange!" and to my surprise he not only responded back in English but also that it was a 'Syracuse Dad' shirt. He had two daughters attend Syracuse and still supported the team years later and miles away.
Why is it important to you to give back to Syracuse University?
While on campus I helped with the Student Philanthropy Council, now known as the Forever Orange Student Alumni Council (FOSAC) and am currently a member of the Generation Orange Leadership Council (GenO). There are no age requirements for giving back. As a student, other favorite memories stemmed from meeting alumni who visited campus to recruit or share real world experiences. I loved interviewing alumni for the Whitman social media team and learning how individuals, decades after graduation, were still involved with their alma mater.
A diploma is a lifelong investment and, although my time as a student has come to an end, I will always be an advocate for an institution that provided me opportunities. I hope that everyone who calls SU 'home' will continue to have an educational institution filled with resources supporting them.
What does being a member of The Hill Society (leadership giving) mean to you?
From handing me a walkie-talkie on Spring Reception Days where I was able to welcome prospective students on a bus ride to campus, to participating in a Family Entrepreneurship Case Competition with Whitman, SU forever changed my path. Being a Hill Society member stirs up a mix of family history and personal gratitude. My great-grandfather was adamant about giving back, he established the Order of the May at Carnegie Mellon, a group which recognizes individuals who donate every year. Although I am not currently in a position to donate millions, it is the sentiment to contribute, even just a little bit, every year to those institutions that shape who you have become. I hope to follow in my family's legacy and continue supporting institutions like SU for years to come by being an active alumna through the GenO council and other alumni outreach programs.
---
The Hill Society | Member Profile 
In each issue of The Hill Society e-newsletter, we will feature a Hill Society member. If you are interested in being profiled, contact thehillsociety@syr.edu.