Taylor M. John Plans Her Career to Address Global Healthcare Inequities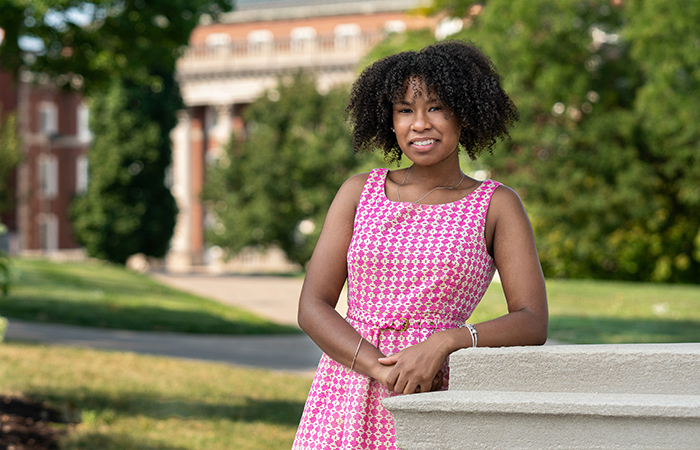 Taylor M. John '22, an Our Time Has Come (OTHC) scholar, plans to put her education to work healing others.
Raised in a Caribbean American household of Guyanese, Jamaican, Chinese and Cuban ancestry, Taylor M. John '22 was influenced at an early age by a variety of cultures that inspired her passion for travel and languages. John has visited more than 15 countries—studying in China, Italy and Cuba during high school—and speaks Mandarin.
John says it was travel that exposed her to inequities in healthcare accessibility. "In Jamaica, I saw the difficulties my family had to get access to vaccinations, medications and doctors we take for granted here," she says. "Quality care is only available for those who can afford it and most cannot."
At Syracuse University, John has focused her education on global health, majoring in international relations and citizenship and civic engagement, with a minor in Chinese. "I hope to be a doctor and work with an organization like the United Nations or Doctors Without Borders," she says. "I want to travel to more neglected places of the world to experience radically different cultures and perspectives from mine, providing healthcare where it's not readily available." After completing her undergraduate degree, she plans to work as a translator or teacher in China, obtain a master's degree while working, and then apply to medical school.
John's upbringing influenced her in another way—she says she grew up "bleeding Orange." Between her father, Trevor M. John '96, and her 10 cousins who attended Syracuse University, there was no question about which college team to pull for on game day. Nonetheless, when it came time to go to college, John chose to be a renegade and headed to Rutgers University as a pre-med student.  It wasn't the right fit, and John transferred to Syracuse University for her sophomore year. "This was always supposed to be my home," she says. "I just took a detour."
She wasted no time diving into campus life. John joined Alpha Kappa Alpha Sorority, Incorporated, at Rutgers but discovered she was the only active AKA at Syracuse—all of the active members had graduated the previous spring. John became chapter president and worked with the local AKA graduate chapter to bring in 15 new members. "That was something I was really committed to," she says. "I wanted to do everything I could to bring back a long-lasting active membership." In addition, John currently serves as president of the National Panhellenic Council; is co-chair of diversity affairs for the Student Association; a campus ambassador for One Love, an organization that promotes safe and healthy relationships on college campuses; a peer health advocate for Planned Parenthood; and a member of Phi Sigma Pi National Honor Fraternity and Iota Iota Iota National Women's Honor Society.
She's also an Our Time Has Come (OTHC) Scholar. "The program definitely helped me build a foundation and relationship with the community, which I really appreciate," she says. "I've met a lot of like-minded individuals, people that love the same things as me and are passionate about doing well." Despite virtual programming, she looks forward to connecting with her OTHC peers.
John concedes that her first year at Syracuse University was not the norm, punctuated by ongoing student protests and cut short by COVID-19. Nonetheless, she's never regretted her transfer.  "I'm such an Orangewoman; I love this school," she says. "Nothing is going to get in the way of me staying here."