Justine Hastings '21 is Passionate About Ensuring Access to Education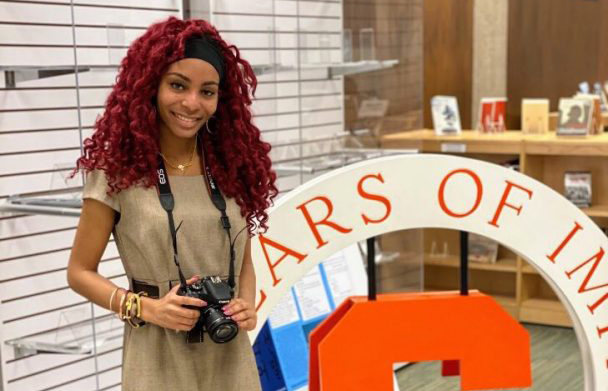 Our Time Has Come Scholar Justine Hastings '21, is passionate about ensuring access to education, especially for individuals who don't speak English as their native language or who come from backgrounds that are underrepresented in higher education. Hastings currently serves as president of the Student Association, and has built an extensive record of service during her time at Syracuse University. She was honored as an "Unsung Hero" at the University's 2020 Dr. Martin Luther King Jr. Celebration for her commitment to inspiring youth in her community through filmmaking, education and compassion. Hastings was also named as a 2020-'21 Remembrance Scholar and awarded the 2020 International Mentor Training Program Certification Outstanding Peer Educator Award from the College Reading & Learning Association.
With support from a grant from the Syracuse Office of Undergraduate Research and Creative Engagement (SOURCE), Hastings created a documentary filmmaking program that helped immigrants and refugees with literacy development.  Hastings worked with five high school students who are all native Somali or Arabic speakers to come to a consensus on a topic and make a film together as a group project. "Part of my research is looking at the students' literacy," she said. "I'm observing how they communicate with one another and why they decide to make whatever they decide to make."
Hastings, who is also a Ronald McNair Scholar and a member of the Renée Crown University Honors Program, is involved in numerous tutoring and mentoring capacities on campus. She was a volunteer academic coach for the Center for Learning and Student Success, and helped students become expert independent learners by introducing them to effective study strategies. She currently serves as a research assistant for SU's Engaged Humanities Video Series Project, a WellsLink peer mentor, a SEM 100 facilitator and a SOURCE mentor.
Hastings grew up in East Flatbush, Brooklyn, which she describes as a low-income, predominantly Black neighborhood. While her own parents have advanced degrees and were supportive of her education, she says many of her peers did not grow up with the same expectations or support. "I'm passionate about helping others because I understand that not everyone is as fortunate to have individuals in their lives that are able to help them," she says. "And I'm specifically involved in these peer programs to help students transition to Syracuse University and be successful."
Through the Our Time Has Come Scholarship, she has connected with mentors and friends who are alumni from diverse backgrounds, as well as peers in the program, she says. "The Our Time Has Come Scholarship means the world to my peers and I. It gives us the ability to pursue or dreams and goals by alleviating financial concerns and constraints. Not only does OTHC support us financially but it also provides us with so many opportunities to network with leaders in our field and connect with our fellow peers. I have met many of my mentors and my friends through the OTHC program and for that I am eternally grateful."