Gabriel Prepetit '22 Explores Architecture and Engineering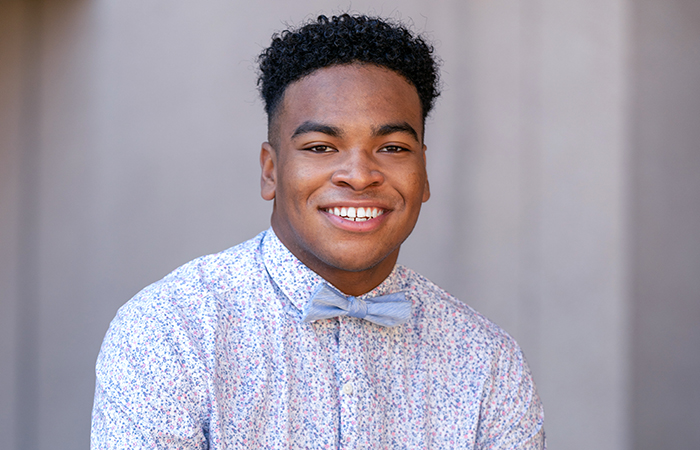 Gabriel Prepetit '22 is fascinated by large-scale structures—sports stadiums, office buildings and retail centers. His dream is to combine his study of civil engineering and architecture to work on that scale. "I'm not sure yet if I want to focus on the design or the engineering and construction but that's what I hope to figure out in my upper-level classes," he says.
Syracuse University was his dream school to pursue that goal, offering high-caliber schools of engineering and architecture, and the perfect combination of size and distance from his hometown of Northborough, Massachusetts. Prepetit was selected as an Our Time Has Come (OTHC) Scholar as an incoming first-year student. In addition to the financial support, he has particularly valued the meaningful interaction with alumni through OTHC mentoring and professional development programs. "It's been very inspirational to meet people who come from similar backgrounds who have gone on to become very successful," says Prepetit, a member of Phi Kappa Psi fraternity and the National Society of Black Engineers who has served as an engineering teaching assistant. "Having mentorship from someone who has been there and gets it is important," he says. It's also something he enjoys paying forward.
Growing up, Prepetit was involved in scouting, attaining the rank of Eagle Scout as a senior in high school. "I really enjoyed all the things I learned along the way and, as I progressed, being able to take charge and guide younger scouts to achieve a goal," he says. "There are so many things I was exposed to that I probably never would have been otherwise."
He'll have the opportunity to build on those leadership skills as student co-chair of Coming Back Together (CBT) 2021 next September. "The leadership programs we've had through OTHC have been fantastic. In less than two years, I've already received valuable life lessons, so helping to support this reunion is a way for me to give back," he says. "I'm really looking forward to all of the various speakers and networking programs of the CBT events."
Prepetit is the son of Haitian parents who came to the United States as teens. "Many of my experiences have been totally foreign to my parents," he says, noting activities ranging from scouting and high school football to fraternity life. "I've appreciated hearing from alumni who have come from similar backgrounds. If I can help younger students coming behind me, that's something I want to do," he says.