For Patricia and Louis Mautino, Scholarships are a "Living Gift"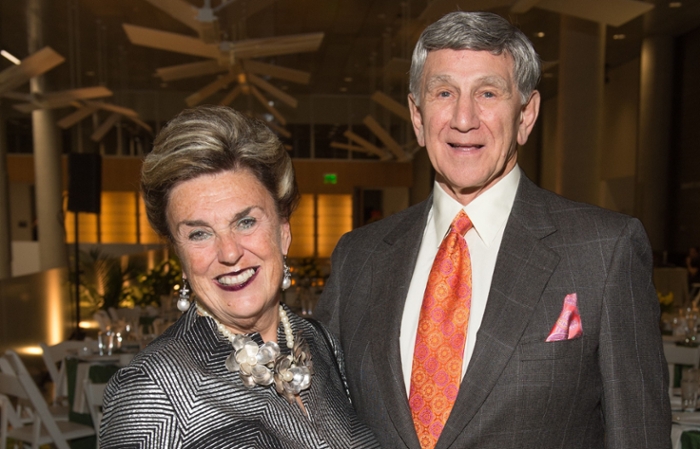 Syracuse University Trustee Patricia H. '64, G'66 and Louis A. '61, G'62 Mautino are passionate about giving to scholarship—for reasons that are personal, altruistic and patriotic.
Over the years, they have established five named, endowed scholarships at Syracuse University, each focused on students studying in different areas of the University. One is an undergraduate football scholarship named in honor of Louis' brother, Fred Mautino. They also named undergraduate scholarships honoring Louis' mother and aunt, and his sister-in-law, Diana Busch Mautino. Louis then established a graduate scholarship to honor Patricia and her distinguished career in library science and education. Most recently, the couple established the Louis and Patricia Mautino Veteran Scholarship.
For the Mautinos, a permanent endowed scholarship is the gift that keeps on giving. "The rewarding thing is knowing that you are helping to meet a real need for a real person with real promise," Patricia says. "For us, it's a living gift. Because scholarships go on through the endowment, every year there's a new birth, a new life. You really feel like it's an exponential gift over the long run."
The Mautinos' connections to Syracuse University run long and deep. In addition to serving as a Trustee, Patricia is one of three chairs of Forever Orange: The Campaign for Syracuse University and is a member of the School of Information Studies Board of Advisors. Louis was a member of the 1959 national championship football team. He was an assistant football coach at Syracuse before starting a career as a builder and commercial and residential real estate developer. The launching pad for his successful career began with a football scholarship at Syracuse. "Without that scholarship, my husband says he would not have been able to attend college," Patricia says.
"I think if you look at it from the bigger picture, a university education is a priceless asset—especially a Syracuse education," she continues. "It's not only the road to a rewarding life for talented students, it's part of the heartbeat of our democracy. We feel that when we support the future of students, we also support the future of our country to have an educated populace. A democracy requires educated, informed citizens."