The Ghaleb and Rima Daouk Endowed Scholarship "Opens a Window" for Deserving Students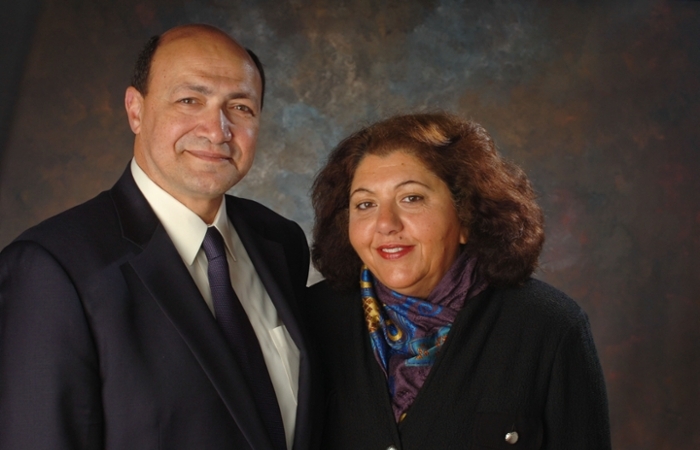 As an undergraduate at Syracuse University, Ghaleb Daouk '79 remembers seeing a placard on the door of a physics professor's office. The simple message on that board has always stayed with him: "Knowledge is power."
Daouk, who is a pediatric nephrologist at Boston Children's Hospital and assistant professor of pediatrics at Harvard Medical School, credits his two brief years as a transfer student at Syracuse University for his intellectual awakening. He remembers studying on the Quad on warm days, spending countless hours in the lab, listening to the libraries' extensive Bach collection, and enjoying classes from a cross-section of disciplines.  Originally from Lebanon, Daouk had started his university studies in France, but at Syracuse University he discovered the joy of intellectual exploration through a liberal arts education. "That openness is something that is distinctly American," he says.
At Syracuse he also met devoted faculty who helped him to participate in research in his majors of biology and chemistry at a time when undergraduate research was less common. He is still in touch with his mentor-turned-friend, biology professor emeritus H. Richard Levy, and Daouk established the Levy-Daouk summer graduate research internship in honor of his former professor.
After graduating, Daouk earned his doctorate in medicine from American University in Beirut. There he met his wife, Rima, who is now a professor of psychiatry and behavioral science and medicine at Duke University School of Medicine. The two moved back to the United States for post-doctoral studies and collaborated to launch a biotechnology company. That, in turn, prompted Daouk to earn a master's in technology management from MIT, and then to develop a specialty in pediatric nephrology.   Both in his career and personal life, learning and teaching remain a passion. At the age of 47, he learned to play the flute in his spare time, taking a special interest in the microtonal music popular in the oriental tradition. He served more than 20 years on the College of Arts and Sciences Board of Visitors, and is now an emeritus member as well as a member of the University's Boston Regional Council and National Campaign Committee for Forever Orange: The Campaign for Syracuse University.
Daouk's passion for education and connection with Syracuse prompted them to establish the Ghaleb and Rima Daouk Endowed Scholarship for undergraduates in the College of Arts and Sciences.  "Quality education has a price. It should be within reach of as many people as possible," he explains. "If I can open a window for someone that would not have been opened, I would feel great. 
"In Eastern culture, we say part of philanthropy is having created goodness for perpetuity—something that survives you. I would say having an endowed scholarship is something that survives you."