Noah Fritsch '24 Finds Joy in the Discipline of Creativity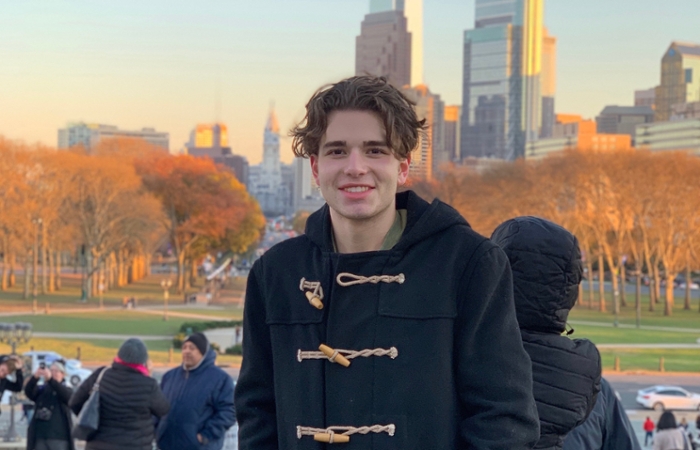 As someone who has long been fascinated by how physical objects—especially cars and buildings—are designed, School of Architecture student Noah Fritsch, says he's fallen in love with the process of creating.  "You distill ideas into buildings," he explains. "I've realized how artistic it is and how the whole process is iterative. You don't have a concrete idea when you start, and you keep revising until that idea comes out." During his first year in the highly ranked school, Fritsch served as a tour guide and student ambassador, and now coordinates a peer advising program that matches first-year architecture students with second-year students. 
Fritsch says he is honored to be the recipient of the Deborah and Frank Cardile Endowed Dean's Scholarship, which is helping to make his Syracuse education possible. "I have a name to tie (the scholarship) to, and know who it comes from. It is allowing me to go to Syracuse and to study something that I am passionate about," he says.
Like other college students across the country and around the world, Fritsch acknowledges that his first year of the five-year undergraduate architecture program did not end the way he expected due to the COVID-19 pandemic. While he would not have chosen to return home to Pittsburgh to finish the semester online, he says the experience gave him a broader perspective of world events, and the opportunity to demonstrate flexibility. "If anything, I learned to be adaptable and learned to work with what I'm given and do the best with that," he says. 
While some things are impossible to replicate remotely—like the impromptu collaboration and energy among students and faculty working side by side in a studio, Fritsch says his professors adeptly adapted coursework and introduced digital tools and ways of working that he believes will be integrated into in-person classes.
After graduation, Fritsch aspires to work for an architectural firm that he admires, possibly in Spain, he says. His dream job? He points to Flavio Manzoni, senior vice president of design for Ferrari, who oversees car design as well as building design on the Ferrari campus.