A Pandemic Can't Stop Cameron Joy Gray's Creative Work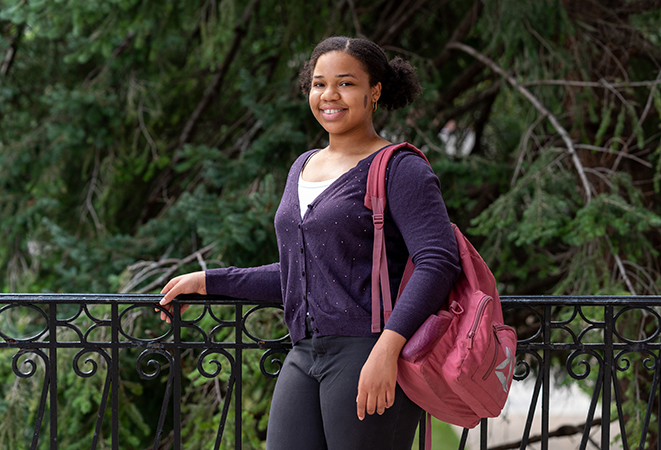 Film major Cameron Joy Gray '22 was preparing to embark on her sophomore film project last March when COVID-19 forced Syracuse University to shut down in-person instruction and send students home. "A classmate and I had hired an actress from New York City and arranged to put her up in an Airbnb with her mother," Gray recalls. "Now what the heck were we supposed to do?"
Her professor insisted that students were still going to make films, only now those films would relate to their pandemic experiences. "We had four weeks to come up with a completely new idea, develop a script and storyboards, and get it shot. It was insane," says Gray. Her film featured a girl who finds an old telephone in her attic and, through it, connects to people living during the Cold War era. "I was trying to draw parallels between the mass hysteria over communism and what we were experiencing with COVID-19. It wasn't as successful as I would have liked."
Nonetheless, it set her on an introspective creative path that carried her through the summer. Gray began writing scripts for a series she's calling "Lessons from My Grandmother," drawing from video interviews conducted for a family genealogy project. Although her grandmother passed away before her interviews were complete, the project has been a constructive way for Gray to cope with that loss.
She's developing the project further this fall in her autobiographical film class. "It's a perfect fit. I just created a trailer for one of my first assignments," she says." Having adapted to virtual classes, Gray is working on doing the same with her extracurricular activities. As the chaplain's assistant to the Historically Black Church Chaplaincy at Hendricks Chapel, Gray has been involved with hosting virtual programming to engage students. "We've had services, fellowship spaces for students and now a speaker series. I'm editing the videos for those," she says. "We're also hoping to work with Hendricks Chapel to co-sponsor a series on race and religion with speakers from other universities and churches."
As a mentor in the Dimensions program, Gray was delighted that, despite limitations on social interaction, 18 new students signed up this fall for the peer-to-peer mentoring program for self-identified women of color. "I'm really looking forward to meeting my mentee and finding creative ways for us to engage," she says.
Gray says another program that has not suffered is Our Time Has Come (OTHC). "As an OTHC Scholar, I continue to have opportunities to connect with alumni, to make real connections with people who are content creators or in the entertainment industry," she says. "I'm so grateful. This is my second year in the program and my award was very generous. Many have been impacted by the pandemic so the fact that people are still willing to give back and contribute to the scholarship fund is extra meaningful."