Bryan Cordova '21 Says Syracuse has Opened a World of Opportunity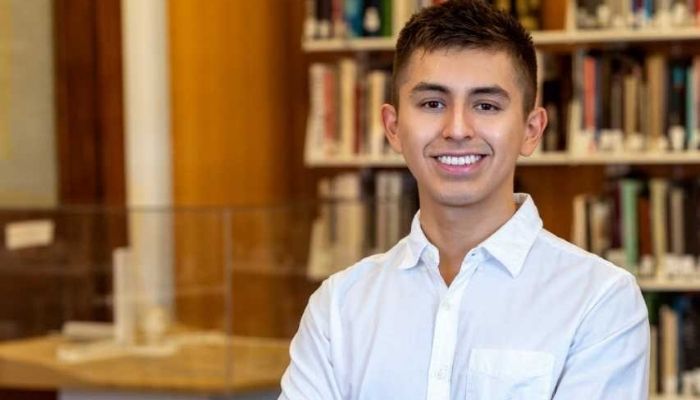 In 1947, construction firm Levitt and Sons purchased a seven-square-mile plot of farmland on Long Island and set out to build the first uniform suburban community in the U.S. The result was Levittown, widely recognized as the first modern American suburb.
As a youngster, Bryan Cordova '21 moved to Levittown with his family, and over the last 15 years, witnessed his father transform their originally small home with a second story and several additions. Cordova credits that experience for partly inspiring his interest in architecture. Now in his final year of Syracuse University's five-year undergraduate architecture program, he plans to study the history of Levittown and its influences on domestic life in America as the foundational research for his senior thesis. He hopes to ultimately work in architecture in an urban environment such as New York City.
A first-generation college student—his parents are originally from Ecuador—Cordova says he has been transformed by his experiences at Syracuse University. He has been active in intramurals, including the men's gymnastics team, and serves as a peer advisor for the School of Architecture. He's also a global ambassador for Syracuse Abroad, having spent semesters studying in Florence and London. Cordova says his year studying abroad was one of the most impactful of his life. "Leaving the country for the first time and being able to learn from different cultures and environments broadened my perspective in unimagined ways," he says. As an architecture student, the experience was doubly profound. "The first time I saw the big Duomo in Florence was overwhelming," he says. "It was one of the most beautiful things I'd ever seen. Being able to witness all of the historical art and architecture was very powerful." It was also humbling. "As a first-generation student, I'm acutely aware that not everyone has the opportunities I've been afforded by Syracuse University," he says.
In fact, his semester in London almost didn't happen. Cordova had spent spring 2019 in Florence and was accepted into the London program for the following fall. But over the summer he discovered his financial aid package wouldn't   cover all of the expenses of a second semester abroad. While researching funding opportunities, he discovered the Our Time Has Come Scholarship (OTHC) program. "Being named an OTHC Scholar and the scholarship I was awarded made the difference that allowed me to spend the semester in London," he says. "It was an amazing educational experience and also culturally interesting to compare life in the different countries." Once back on campus, Cordova connected in person with his fellow OTHC Scholars and particularly valued being able to expand his campus community, he says.   "The diversity of my experiences at Syracuse University has really made me appreciate the global presence of our surroundings."