Investing in the Student Experience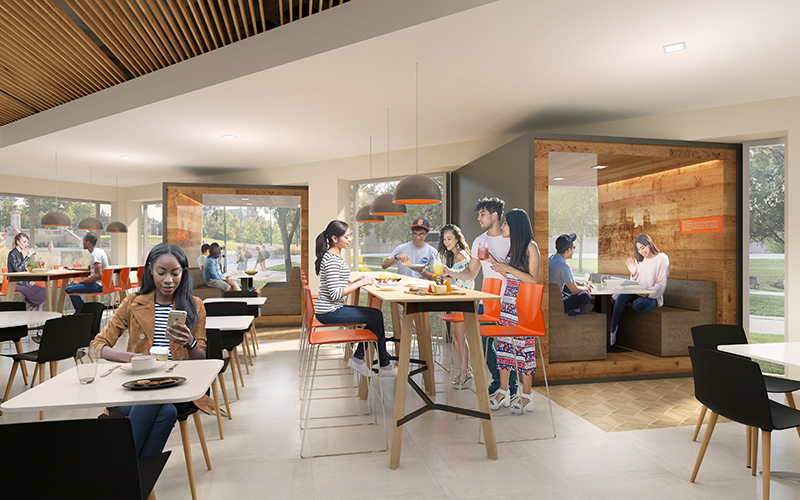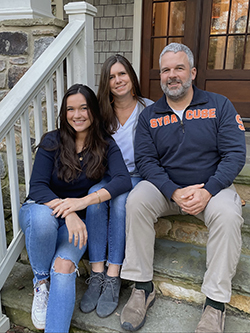 For 35 years the Hildegarde and J. Myer Schine Student Center has been a welcome gathering spot for Syracuse University students, alumni and visitors alike. When it reopens in spring 2021, the newly renovated Schine is expected to be the heart of the student experience – an open, inviting, inclusive and fully accessible space that will house the University's diverse cultural centers, student activities and organizations, a lively two-floor atrium and more. And within the transformed dining area, an iconic new "booth box" will acknowledge the generosity of Thomas (TJ) and Tara Maher '93, who chose to celebrate their daughter Kylie's graduation from Syracuse with a special tribute gift.
"As one of the social hubs on campus, Schine is open to everyone in the University community, so we knew it would get lots of use benefiting many people," says Tara. 
The family's fondness for Syracuse begins with Tara's own student experience in the early 90s. "I ended up choosing Syracuse because, unlike many other art schools, the College of Visual and Performing Arts offered great programs within the overall context of a larger, more diverse university with Division I sports," she says. "I loved the campus right away when I visited and applied early decision. I loved my years at Syracuse and spent lots of time in the studio working on my portfolio, spending time with friends, and attending most basketball and football games.
While TJ didn't attend Syracuse, he spent plenty of time on campus. "Tara and I went to high school together and began dating a few months before leaving for college, so I had four years of weekend visits to Syracuse," TJ says. "Some of my favorite memories are games in the Dome (especially the 1992 football loss to then #1 Miami), the Billy Joel concert, Spring Block Party weekends, eating Sal's wings and hanging out with friends at 44's. I'm sure I was also dragged to a few art history and studio classes too."
Tara earned her surface pattern design degree and took a job as an artist/designer for a home fabric company in New York City. After five years living and working in NYC, the couple and then 2-month-old Kylie moved to Charlotte, N.C. for TJ's job. Tara enjoyed being a full-time mother and frequently volunteered at their children's schools teaching art, planning events and fundraising.
When it came time for their oldest daughter, Kylie, to attend college, she decided to pursue her interest in finance at the Whitman School of Management, and Tara and TJ were once again frequent visitors to campus. "We were so happy when Kylie decided to attend Syracuse," TJ says. "Not only because it was the right type of school for her and the breadth of opportunities we knew it would offer, but more importantly because we wanted her to be part of the strong and extensive Syracuse alumni community.
It has been so much fun getting reacquainted with the campus and the surrounding areas," Tara says. Downtown, the Armory Square area seems much more vibrant, and the new design studio building seems to be a great addition to VPA. All of the new buildings we have had the opportunity to tour such as the Barnes Center at The Arch, Dineen Hall and Whitman are very impressive.
Tara and TJ have always tried to be involved with their children's schools. Wanting to feel more connected to the University, they joined the Joseph I. Lubin Society and were also instrumental in creating the University's Parents Council.
"We had the opportunity to meet and work with the great team running the University and other interested parents of current students. Parent involvement is important and worthwhile because it provides the administration real-time perspectives, new ideas and connections," TJ says.
"It inspired and prepared us to better support Syracuse in Charlotte where the university is less familiar," Tara says. "Post COVID, we are looking forward to hosting parent events, new student send-offs and anything else we can to help Boost the 'Cuse."
The Mahers have taken an active interest in student-centered facilities projects and chose to support the Schine renovation for its widespread benefit to students.
"During one of our Parents Council visits we toured the Barnes Center and were struck to learn about how much need there was for student services, particularly mental health. We were so impressed with our guide and how much effort Syracuse was making to help," Tara says. "We know a booth where students will drink their Dunkin' is not on the same level as the Barnes Center, but we'd like to think it's a small part of making Schine a better place to help students stay engaged and feel part of the Syracuse community."
"Schine is also a highly visible location on campus and can make an important first impression on visitors and prospective students/parents," TJ says. "It should be as impressive as the rest of the beautiful campus, and we can't wait to see the completed renovations.