Susan Church Andersson '84 Honors A Season Lost, Supporting the Syracuse Women's Rowing Program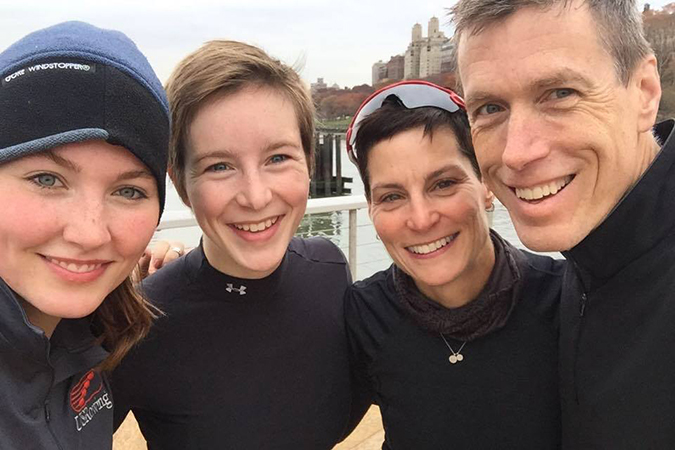 A January visit with the current Syracuse University women's rowing team prompted Susan Church Andersson '84 to make a choice. "I decided if I can support the program, I should do it now." Andersson's support will come in the form of a new boat for the program—one that will be named in honor of the season lost due to the COVID-19 world health pandemic. The seed for a gift was planted when she reconnected with her Orange teammates at the 2018 Evening at Ten Eyck event where the conversations about how to support the current student-athletes began. Andersson, a four-year varsity rower who did not participate in athletics in high school, shares her story.
In Her Words…
For the past 35 years (wow, that went fast), I have had relatively little interaction with Syracuse Women's Rowing, other than support for a few campaigns, and membership in SARA and the Varsity Club. But things changed when Emme Aronson gathered the 1980s rowers together for the Evening at Ten Eyck in 2018 to celebrate 40 years of women's rowing at Syracuse. I think many of us had been busy with our lives and had lost touch with each other and the program. A large group from the early 80s decided to attend the event: Beth Clagett Marks, Nancy Newell Clagett, Kelly Przylepa, Eleanor Allen, Sheila Roock, Pam Carey Schrock, Sue Baker, Christine Casatelli, Margaret Gordon, Claudia DeSimone Lucey, Julia Grant Barol, Kristine Jensen Adams, Linda Zembsch. A group rented a house on Oneida Lake for the weekend and we shared potluck dinners, memories, and photos; we really had a blast that weekend. AND we realized that we wanted to stay connected and grow support for Syracuse Women's Rowing. We reconvened for the 2019 Evening at Ten Eyck, and we have widened our circle and deepened our connection. Every Friday we have a Zoom happy hour, with new 80s rowers joining each week from all around the country; we have continued reconnecting during this time of distancing.
At Ten Eyck this past fall we realized that the women's program did not have the support it needed, particularly in the head coach's fund. We were all taken aback by it and we started making plans. I remembered visiting an Ivy boathouse as an undergrad that was full of beautiful carbon eights, and hearing that there was a waiting list to donate a boat. This was the memory that began the decision process for me. I realize now that rowing at Syracuse changed my life in many ways and led me to where I am today. I have lived and traveled around the world, had a career, raised a wonderful family, and now have the opportunity to focus on athletics. When I turned 50, I started cycling competitively and would never have been able to train for this without the lessons I learned in my four years of rowing at SU.
In January I went to see the current Syracuse women's rowing team during their winter training, in Cocoa Beach. I rode in the launch, observed practice, met the student-athletes, and had dinner with the coaches. The women on the team are impressive—poised, confident, and articulate. After my trip I decided I needed to go forward with making a donation for a boat. I thought, 'If I can, I should. If we really want women's sports to be supported, we have to do it'. I am sensitive to the timing of this in the COVID-19 crisis, but it is important to move the program ahead. This boat will be dedicated to the lost season of 2020. It will be a symbol of the work that went into a season that was seized by the pandemic. We want the rowers on the 2020 team to know that their work and preparation were not in vain, and we want future Orange rowers to know they are competing for themselves as well as the women on this year's team who lost the opportunity to put their training into action.
Everything that has happened since the 2018 Evening at Ten Eyck has made me reflect on the impact rowing at Syracuse had on my life—what it really meant to me. It was an intense part of my undergraduate experience and changed how I have lived. I have learned a lot about being an athlete since then. It started with Syracuse Rowing.