Class Act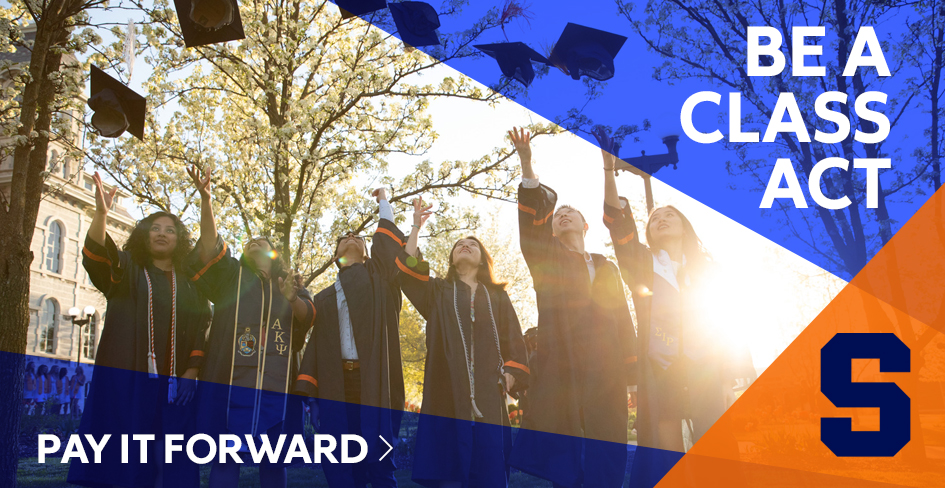 Class of 2023 Giving
What's made a difference in your life?
Is it a cutting-edge academic program? An awesome professor? A much-needed scholarship? A fabulous semester abroad?
You can help other SU students have that same great experience. Just support whatever part of SU means the most to you with a gift to the Class of 2023 Giving campaign.
How much should you give? We suggest $20.23 but give whatever you feel comfortable with. Does your gift matter? Absolutely! Tuition covers only about 80% of the true cost of an SU education. Each gift helps close that gap. Last year, the Class of 2022 raised over $20,000!
Accordion Section
Yes, Your Gift Really Matters
Giving to the Class of 2023 Giving campaign can make a difference right now to you and every other Syracuse University student on campus.
Here are just a few things it can do:
Support the more than $260 million in student scholarships Syracuse University provides.
Bring renowned speakers and visiting artists to campus.
Support the operating budgets of student organizations.
Fund student awards that pay for travel and conference opportunities.
Support our Syracuse University Abroad centers all over the world.
Pay entry fees for student competitions.
Provide new technology in classrooms, laboratories, and libraries.
Pay for subscriptions to scholarly journals.
Provide funds for deans to use where support is needed most.
As you can see, giving has a major impact. Give to the Class of 2023 Giving campaign today!
What is Class Act?
Class Act is the Class of 2023 Giving campaign and is led by student ambassadors who encourage their peers to make a gift in honor of their graduation.
As a thank you and as recognition of their generosity, donors are given special Orange, white, and silver Class Act cords to wear at Commencement.
What are the goals of Class Act?
To encourage students to make a gift of $20.23 in honor of their class year to an area on campus that is meaningful to them.
To educate students about the importance and value of giving back to Syracuse University.
Why encourage student giving?
To ensure that future students have the same great experiences as you've had.
Without donor support, Syracuse University wouldn't be able to provide cutting-edge programs, modern facilities, scholarships, or a number of other things that go into a first-class education.
Tuition and fees cover only 80% of the real cost of a Syracuse University education. All gifts help bridge that gap.
Gifts to individual schools and colleges support things like visiting artists, speaker programs and field trips.
It's a way for you to pay it forward and leave a legacy at Syracuse University to honor the community that helped you succeed.
As a student, what can I support?
You can support any part of Syracuse University that is meaningful to you.
Some of the more popular funds students have given to are the Annual Fund, Dean's Funds at individual schools and colleges, the General Scholarship Fund and the SU Abroad Fund.
How can I get involved?
Become a Class Act student ambassador!
Email Grace Terry in the Office of Alumni Engagement at ghterry@syr.edu or Mollie Pinker in the Office of Philanthropic Engagement at mcpinker@syr.edu to learn more!
Ready to Make a Difference?
Choose the method that's most convenient for you…
To give by phone or in person, call 315.443.3926.
To give by mail, send your check (made payable to Syracuse University) or credit card information to:
Syracuse University
Fund for Syracuse
640 Skytop Road, 2nd floor
Syracuse, NY 13244
Thanks for making your senior year count!

Gave $20.23 or more? Pick up your Class Act Cord!
Cord pickup times will be announced April 2023.